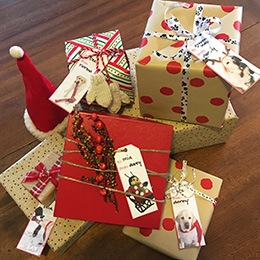 The holidays can be overwhelming, but… as with so many things… attitude is everything. I dread hearing a month and a half of the same holiday music on a repeat loop. I don't like the elf on the shelf. I think eggnog is disgusting. I'll bet you have your own not-so-short list of pet peeves with this time of year. So why do we (collectively) still love it so much? Why does it make many of us feel happy and optimistic?
I think it's the giving. And I'm careful to separate that from the holiday shopping, which goes on the first list… right up near the top. I love the feeling of giving. I think we all do. Science backs me up here with studies that show altruistic behavior stimulates the areas of our brains that release endorphins. That "warm, fuzzy feeling" is real! Giving can take many forms; volunteering your time; donating to a good cause; making an extra effort to be thoughtful. You can even get that holiday feeling if you can manage a smile when someone else takes the last parking space at the mall.
To help with your traditional holiday giving (wrapped presents) our gift to you is a template of gift tags featuring Danny and his friends. They're perfect for adorning a holiday gift under the tree in the classroom, literacy library, or at home. Print on lightweight cardstock for durability. We hope you like them. And if you do, remember that feelings of gratitude are good for us too.