Description
The newest Danny Collection (DC100) includes I Dream of Danny Set 14, the latest Danny set of 6 titles continuing the adventures of Danny, Norman and Bee. The titles in set 14 are Norman's Candy Hearts, Danny and Norman at the Car Show, Danny's Tadpoles, Stink Bugs in Danny's House, Oh No, Norman! and Danny's Bee Goes to the Hospital, ranging from guided reading levels B to G.
The Danny Collection (DC100) includes a copy of each title in the 14 Danny sets, the 4 titles in Scientist Danny , the 6 titles in Danny and Grandma Ruth, the 4 titles in the In the Woods with Danny and Bee set, and a copy each of Danny and Heather Share and Danny and Norman's Favorite Knock Knock Jokes. The collection is designed to help young children become successful, strategic readers and writers.
The titles in the Danny Collection range in guided reading levels from A to J, making it an economical way to both engage early readers and encourage their advancement. In order to continue reading about Danny and his friends, young readers must progressively improve their reading skills. The titles in the Danny Collection are appropriate for Early Emergent, Emergent, and Upper Emergent Readers. Please sample our books online, cover to cover.
The Danny Classroom Collection
DCC600 includes 6-pks of each of the titles for a total of 600 books. It's a great way to get Danny for the whole class.
The classroom collection is a MRB best value purchase and with the cost for each book below $5.00, it's an economical way to get Danny for the whole class! Make integrating MaryRuth Books into your classroom library easy by downloading our printable label sheets that include both Intervention/Reading Recovery® and Fountas & Pinnell reading levels. Level labels are formatted to print on the Avery Easy Peel® 5160 Labels template.
Add a 2-sheet MRB Letter Set to any order for only $1.00 each set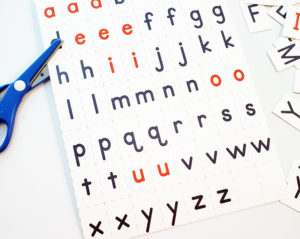 The 8-1/2 x 11″ sheets are printed in 2-colors on sturdy 110# white index stock and designed to be a portable way for students to do letter or word work whether they're learning at home or in the classroom. The set includes one sheet of upper case and one sheet of lower case letters, plus several blank tiles so the sheets can be customized. Vowels are printed in red. Consonants are printed in blue. The font used for the letter sheets is student-friendly. Printed dashed lines between the individual letter tiles make cutting them out easy.
Coordinating Activities
• Organize your Danny books in the classroom with a Danny Doghouse, complete with its own chalkboard roof.
• Make Sure Reading is a Part of Summer Plans. We have 26 Books to Get you Started.
Download Danny's Summer from A-Z.  Challenge students to how many boxes they can check before the end of summer.
• Thank you to the K-Grade 2 students at West Elementary School (United CUSD #304) for the Happy Birthday book they made for Danny. We LOVED it and want to share it here.