Description
Children are naturally fascinated by the world around them. Helping them learn more about that world increases their background knowledge. A young student who has wide, general knowledge about the world has a good foundation for learning. Academic success later in life builds on that foundation. Introducing students to nonfiction/informational texts early can turn a reluctant reader into a curious, enthusiastic one! Read a sample book before you buy.
Nonfiction/informational books are in short supply
One study found that in typical 1st grades informational texts make up less than 10% of all texts in the classroom library. The median number of nonfiction/informational books was just 1.2 per student in low-income districts. In high-income districts that average only rose to 3.3 per student. Most young readers spend less than 4 minutes a day reading informational text. For lower-income students that amount of time drops to only 1.9 minutes during an average school day. The Nonfiction/Informational Collection includes titles appropriate for Early Emergent to Early Fluent readers, at an MRB Best Value price. Download a list of titles in the collection here.
Add a 2-sheet MRB Letter Set to any order for only $1.00 each set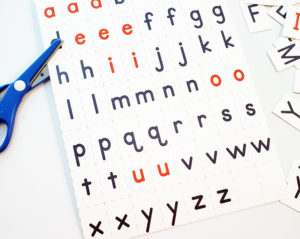 The 8-1/2 x 11″ sheets are printed in 2-colors on sturdy 110# white index stock and designed to be a portable way for students to do letter or word work whether they're learning at home or in the classroom. The set includes one sheet of upper case and one sheet of lower case letters, plus several blank tiles so the sheets can be customized. Vowels are printed in red. Consonants are printed in blue. The font used for the letter sheets is student-friendly. Printed dashed lines between the individual letter tiles make cutting them out easy.
A shifting emphasis
In an attempt to correct this imbalance the Common Core language arts and literacy standards is placing more emphasis on reading nonfiction/informational texts beginning in elementary school (Coleman & Pimental, 2012). Students are learning how to research a topic and understand nonfiction/informational texts as early as 1st and 2nd grade. In later grades, these texts include literary nonfiction; essays; biographies and autobiographies; journals and technical manuals; and charts, graphs, and maps (Gewertz, 2012).
Research says that what students read matters
Independent reading strengthens a student's reading skills. Students who read more are exposed to more vocabulary. They become more proficient readers and find reading more enjoyable. They continue to read more, increase their skills, and become even better readers (Stanovich, 1986). Poor readers, on the other hand, read less and continue to lose ground over time, widening the gap in education. Students at the 90th percentile of reading volume (those who read 21.1 minutes a day) encounter 1.8 million words a year. Students in the 10th percentile (reading less than one minute per day) read only 8,000 words a year (Cunningham & Stanovich, 2001).
It's not just how much students read that matters. It's also what they read. Students need to read and be able to understand nonfiction/informational texts in the same way as they do fiction.
One of the reasons that reading nonfiction is important is that it helps students develop their background knowledge. Background knowledge can account for as much as 33% of the variance in student achievement (Marzano, 2000). Continuing to grow background knowledge becomes even more crucial in later elementary grades, as students begin to read more content-specific textbooks (Young, Moss, & Cornwell, 2007).
References
EL Educational Leadership
Research Says / Nonfiction Reading Promotes Student Success
by Bryan Goodwin and Kirsten Miller