Description
The Puppy Norman Set includes SEVEN favorite Norman titles and the Norman puppy. The seven books and the puppy are packaged in a paw-print cellophane bag and tied with a paw-print ribbon. At only 31/2″, Puppy Norman is very portable and the perfect size for small hands.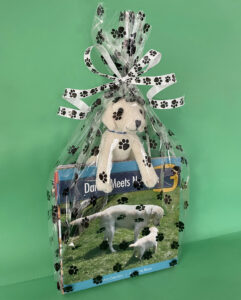 Titles included in the Puppy Norman Set range in reading levels from B to G, based on independent evaluation by Fountas & Pinnell using the F&P Text Level Gradient™. The increasing levels of the titles supports readers and allows them to be successful as they develop reading skills. Wanting to know what happens to Norman next will encourage them to challenge themselves, practice, and progress. Lesson Plans, Running Records, and classroom activities that coordinate with each title are available for download on that title's product page.
Leveled Readers
Norman's Candy Hearts and Danny and Norman at the Car Show (Level B) and Danny Meets Norman (Level C) are titles that could be read by Early Emergent readers. Oh No, Norman! is a D leveled reader. Danny and Norman's Snowman and Norman's Loose Tooth are Level E. All three titles are appropriate for Emergent readers. The story in Oh No, Norman! continues in Danny's Bee Goes to the Hospital (Level G) which is leveled for Upper Emergent readers.
MaryRuth Books offers many fiction and nonfiction/informational leveled readers, suggested and used by Reading Recovery® and Guided Reading educators, when teaching early readers.