Description
Get your child ready for school by having all the basics covered.
Buy a 6-pk of the soft-cover ABC Danny and receive a FREE set of the ABC Danny Classroom Cards, valued at $14.95.
The ABC Danny Classroom Cards are a perfect compliment for children practicing the alphabet and reading the ABC Danny book. The cards are ideal for bulletin boards at home or at school. They also make a fun classroom border.
Using original photography of Danny and whimsical illustrations, the 26 individual 10 x 8″ cards are printed on heavy weight card stock. Their large size and sturdy weight make them a perfect choice for humorous flash cards that can be seen by the whole class. Danny makes learning the alphabet fun, and the silly pictures help young students remember the letters and their corresponding sounds.
The images used for the ABC Danny Classroom Cards are the same images in the ABC Danny Book  and using them together can help reinforce letter knowledge. The same images are also used on the ABC Danny Poster. The ABC Danny Desktop Helpers coordinate with the other pieces.
Add a MRB Letter Sheet set to any order for only $1.00 each set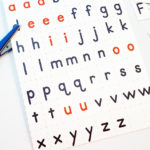 The 8-1/2 x 11″ sheets are printed in 2-colors on sturdy 110# white index stock and designed to be a portable way for students to do letter or word work whether they're learning at home or in the classroom. The set includes one sheet of upper case and one sheet of lower case letters, plus several blank tiles so the sheets can be customized. Vowels are printed in red. Consonants are printed in blue. The font used for the letter sheets is student-friendly. Printed dashed lines between the individual letter tiles make cutting them out easy.