Description
Having plenty of engaging books on hand is important for young readers, whether your student is learning at home or in school. Each of the Starting Back Sets includes eight books selected by level, two stamped postcards, two Danny + Bee labels (just waiting to be personalized), a 12 x 9″ reusable dry erase whiteboard with marker and eraser*, and a clear 4 mil Polyethylene, acid-free and archival safe HangUp bag. The handled HangUp bag is waterproof and can be wiped off and reused. The bag measures 12-1/2″ H x 14″ W and is perfect for transporting books to and from the classroom or for efficient, safe hanging storage. The 3-3/4″ gray handles of the bag snap together for security and have molded thumb grips for easy opening.
Coordinating Lesson Plans and Running Records for each of the eight titles are available as FREE downloads.
Titles included in the Starting Back E-H Nonfiction Set are:
* Dry erase whiteboard with marker and eraser included in sets only while supply lasts.
Emergent – Upper Emergent Readers
Emergent readers are just learning what books are and how they work, and are starting to understand that the purpose of writing is to convey a message or meaning. For emergent readers, both the pictures and text of a book work together to create meaning. This is a point at which young readers learn to use the sources of information (meaning, structure, and visual) found in text.
Learning directionality is critical at this stage. Whether emergent readers are reading aloud to themselves or are being read aloud to, they should be able to demonstrate one-to-one matching of voice to printed text. Students reading at this level are developing comprehension strategies and word-attack skills.
Upper Emergent Readers are still reading text with three to eight lines of print per page, but the print size is slightly smaller and there are more words on a page. With early reading behaviors completely under control, they are able to understand more complex story lines and ideas. Readers at this level can use a range of word-solving strategies. They read text with some content-specific words, but most texts have a minimum of challenging vocabulary words. In their oral reading, upper emergent readers demonstrate appropriate rate, phrasing, intonation, and word stress.
Stories for Upper Emergent Readers are longer and more literary, with less repetition in the text structure. When reading informational texts, they are reading to learn new facts. Because they now easily recognize a large number of high-frequency words, readers are able to engage in more in-depth thinking and  solve words with complex spelling patterns.
Add a 2-sheet MRB Letter Set to any order for only $1.00 each set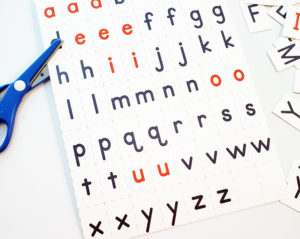 The 8-1/2 x 11″ sheets are printed in 2-colors on sturdy 110# white index stock and designed to be a portable way for students to do letter or word work whether they're learning at home or in the classroom. The set includes one sheet of upper case and one sheet of lower case letters, plus several blank tiles so the sheets can be customized. Vowels are printed in red. Consonants are printed in blue. The font used for the letter sheets is student-friendly. Printed dashed lines between the individual letter tiles make cutting them out easy.
Readers at all Levels Benefit from Reading Fiction and Nonfiction Books
A recent study found that in typical 1st grades informational texts make up less than 10% of all texts in the classroom library. The median number of nonfiction/informational books was just 1.2 per student in low-income districts. In high-income districts that average only rose to 3.3 per student. Most young readers spend less than 4 minutes a day reading informational text. For lower-income students that amount of time drops to only 1.9 minutes during an average school day.
Remember to visit our Resources section each month to download a new MaryRuth Books calendar. You'll also find plenty of FREE downloadable activities there to help curious students keep learning.
Coordinating Activities
In Red Pandas at the Zoo students read how the ability to hide can keep animals safe from predators. Color the Red Panda to help it blend into its red, brown, and white surroundings.
Male emperor penguins are considered to be among the best fathers in the animal kingdom. Learn more about how emperor penguin parents split the responsibilities of raising chicks by downloading our free classroom activity. Test your motor skills with a game that lets you try to do something emperor penguin parents do.