Description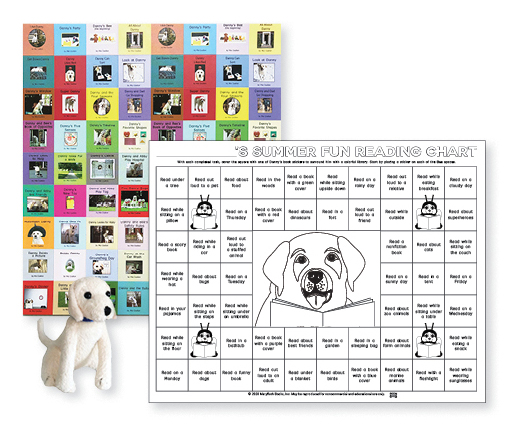 For a limited time only, get FREE SHIPPING on Summer Fun Reading – Early Emergent. The specially priced set consists of six fiction titles and four nonfiction titles, plus a reading chart with a sheet of colorful stickers to keep track of summer reading progress. Add your name and color the chart to make it your own. The set also includes a 4″ plush, My Very Own Puppy Norman. He's a perfectly-sized, portable reading buddy.
Titles included in Summer Fun Reading – Early Emergent are:
Titles listed above are based on current inventory. If a specific title becomes unavailable, a similar title of the same level will be substituted.

Remember to visit our Resources section each month to download a new MaryRuth Books calendar. You'll also find plenty of FREE downloadable activities there to help curious students keep learning.
Early Emergent Readers
Early Emergent readers benefit from books about familiar topics that use carefully controlled text and repeated vocabulary. Illustrations are important keys to readers at this level, supporting the decoding of new words. Early Emergent readers are still building a vocabulary of high-frequency words. Having a large vocabulary of frequently used words enables reading that is more fluent and sounds like natural speaking language.
Readers at all levels benefit from reading both fiction and nonfiction/informational books. Reading nonfiction helps young students develop 
background knowledge
, which increases their comprehension ability by enabling them to make sense of new ideas. Additionally, informational texts have the potential to motivate students to read more by tapping into their personal interests. MaryRuth Books offers many 
fiction and nonfiction/informational leveled readers
, suggested and used by 
Reading Recovery®
 and 
Guided Reading
 educators, when teaching Early Emergent readers.
Coordinating Activities