Description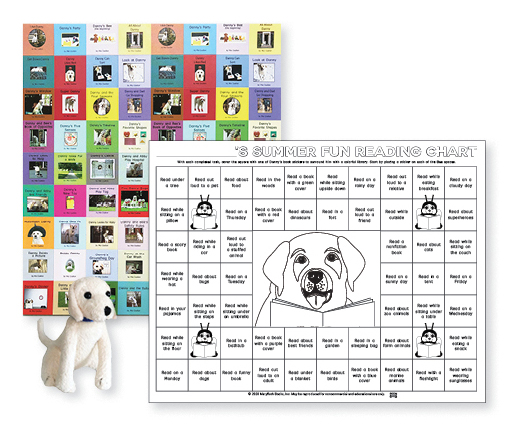 For a limited time only, get FREE SHIPPING on Summer Fun Reading- Emergent. The specially priced set consists of eight fiction titles and two nonfiction titles, plus a reading chart with a sheet of colorful stickers to keep track of summer reading progress. Add your name and color the chart to make it your own. The set also includes a 4″ plush, My Very Own Puppy Norman. He's a perfectly-sized, portable reading buddy.
Titles included in Summer Fun Reading – Emergent are:
Titles listed above are based on current inventory. If a specific title becomes unavailable, a similar title of the same level will be substituted.
Remember to visit our Resources section each month to download a new MaryRuth Books calendar. You'll also find plenty of FREE downloadable activities there to help curious students keep learning.
Emergent Readers
Emergent readers have a good understanding of the alphabet and early phonics that help them decodeunknown words. They are developing comprehension skills and word-attack strategies, and are comfortable with a significant number of high-frequency words. Emergent readers are more flexible in their ability to handle varied placement of text on a page and understand most punctuation. They're also able to recognize that reading has a variety of purposes and reading different kinds of books is enjoyable for distinct reasons. Readers at the Emergent level are able to understand a wider range of punctuation and can read dialogue, reflecting the meaning through their phrasing. They're also able to recognize and understand inflectional endings, like s and ing, and the effect those endings have on root words.
Readers at this level benefit from reading both fiction and nonfiction/informational books. Reading nonfiction helps young students develop background knowledge, which increases their comprehension ability by enabling them to make sense of new ideas. Additionally, informational texts have the potential to motivate students to read more by tapping into their personal interests. MaryRuth Books offers many fiction and nonfiction/informational leveled readers, suggested and used by Reading Recovery® and Guided Reading educators, when teaching Emergent readers.
Coordinating Activities
What did the polar bear say to the penguin? Nothing… because they never met! Polar bears and penguins both love to swim and depend on the oceans that surround them for survival. After reading about penguins and polar bears, make a classroom Venn diagram to compare the two animals, noting their similarities and differences. Get started by downloading our classroom activity.
Male emperor penguins are considered to be among the best fathers in the animal kingdom. Learn more about how emperor penguin parents split the responsibilities of raising chicks by downloading our free classroom activity. Test your motor skills with a game that lets you try to do something emperor penguin parents do.
Have your next ZOOM, Teams, or Cisco Webex meeting in Danny's Garden by downloading a FREE background (JPG or GIF) featuring Danny and Bee.