Description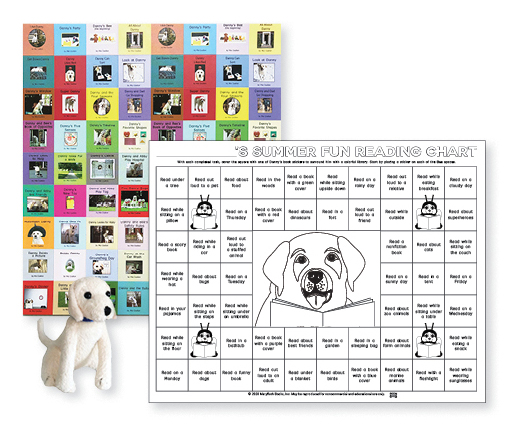 For a limited time only, get FREE SHIPPING on Summer Fun Reading – Upper Emergent. The specially priced set consists of seven fiction titles and three nonfiction titles, plus a reading chart with a sheet of colorful stickers to keep track of summer reading progress. Add your name and color the chart to make it your own. The set also includes a 4″ plush, My Very Own Puppy Norman. He's a perfectly-sized, portable reading buddy.
Titles included in Summer Fun Reading – Upper Emergent are:
Titles listed above are based on current inventory. If a specific title becomes unavailable, a similar title of the same level will be substituted.
Remember to visit our Resources section each month to download a new MaryRuth Books calendar. You'll also find plenty of FREE downloadable activities there to help curious students keep learning.
Upper Emergent Readers and Nonfiction/Informational Texts
Upper Emergent readers recognize that reading has a variety of purposes and reading different kinds of books is enjoyable for distinct reasons. They should be reading both fiction and nonfiction/informational books. Early exposure to the language and structure of nonfiction/informational books benefits children not only as they learn to read, but as they build their general knowledge of the world.
Reading informational books like Giraffes at the Zoo, Sharks at the Aquarium, and Summer in the Woods provides a different type of literacy benefit to early readers. Nonfiction texts help young students develop background knowledge, which increases their comprehension ability by enabling them to make sense of new ideas. Additionally, informational texts have the potential to motivate students to read more by tapping into their personal interests. Encouraging students to explore a broad array of informational texts can help them see that the real world is as interesting and amazing as any fictional one. MaryRuth Books offers many fiction and nonfiction/informational leveled readers, suggested and used by Reading Recovery® and Guided Reading educators, when teaching Upper Emergent readers.
Coordinating Activities
Basil, chives, cilantro, dill, lavender, oregano, parsley, rosemary, sage, and thyme are all good sources of nectar for honeybees. Find our handy Bee-Friendly Herb Growing Table here. Get directions for a fun Growing Herbs For Honeybees activity here.
Can you guess the science riddle? I am an animal who never stops working. My work helps produce the seeds and fruit that feed many creatures, yet I eat no plants or animals myself.