Description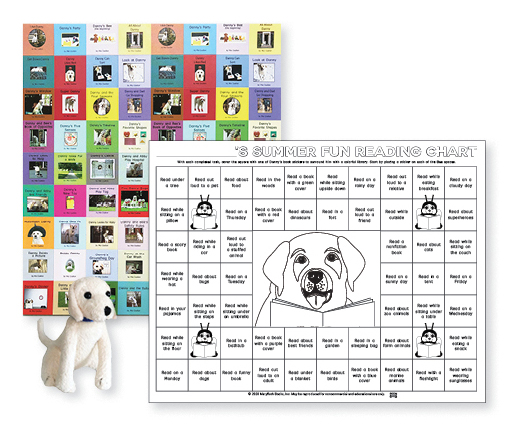 For a limited time only, get FREE SHIPPING on Summer Fun Reading – Early Fluent. The specially priced set consists of six fiction titles and four nonfiction titles, plus a reading chart with a sheet of colorful stickers to keep track of summer reading progress. Add your name and color the chart to make it your own. The set also includes a 4″ plush, My Very Own Puppy Norman. He's a perfectly-sized, portable reading buddy.
Titles included in Summer Fun Reading – Early Fluent are:
Titles listed above are based on current inventory. If a specific title becomes unavailable, a similar title of the same level will be substituted.
Remember to visit our Resources section each month to download a new MaryRuth Books calendar. You'll also find plenty of FREE downloadable activities there to help curious students keep learning.
Early Fluent Readers
Early fluent readers have a large, expanding sight‐word vocabulary and are able to quickly apply word‐solving strategies. They are becoming comfortable with complex spelling patterns, multi-syllable words, and words with inflectional endings (plurals, contractions, and possessives). They are also able to bring background knowledge to new reading and recognize abstract ideas and themes in texts, like friendship and courage.
Reading informational books, like Lions at the Zoo, provides a different type of literacy benefit to early readers. Reading nonfiction helps young students develop background knowledge, which increases their comprehension ability by enabling them to make sense of new ideas. Additionally, informational texts have the potential to motivate students to read more by tapping into their personal interests. Encouraging students to explore a broad array of informational texts can help them see that the real world is as interesting and amazing as any fictional one.
What is a Chapter Book?
Early Fluent Summer Fun includes four chapter books. Typically, books for new readers have few pages, short sentences, and get help telling their simple story from plenty of pictures. As children grow in their reading ability and can follow longer and more complicated stories, chapter books are the next step. Chapter books still feature illustrations, but fewer than the books for early readers. A chapter book tells the story primarily through the text. The story is long and complex enough to be broken up into short chapters that provide natural breaking points for readers to stop and resume reading later. And many children like the grown-up feeling of reading a book with chapters.
Each chapter book in this collection features original photography and has a storyline that is more complicated than the books leveled as early emergent and emergent. Following Danny's adventures throughout a series of books encourages progressing readers to continue to practice their reading, resulting in their being able to read more smoothly, decode unknown words more quickly, and readily understand the cues given by punctuation marks.
Video Instruction for Independent Reading
Gail Boushey, well-know literacy author and educator, has created a video resource for parents, teachers, and students to encourage and support independent reading. In one of her videos, Mrs. Boushey provides instruction and models independent reading for students using Danny and Norman's Favorite Knock Knock Jokes. She also uses two other titles from MaryRuth Books in the series:
Coordinating Activities