Description
This chunky little Super Danny Board Book is easy for tiny hands to handle. An engaging book with repeating words that children, who are just becoming readers, will practice reading again and again. The repeated phrasing helps children, who are just beginning to read, practice reading on their own. Very young children will enjoy holding the book and turning the pages while the story is read aloud to them until they can read it themselves.
In Super Danny Board Book, Danny wants to be a superhero, but needs a costume. He uses his imagination and collects items from around the house in order to make a very special costume…a very SUPER costume. Now that Danny has his red socks, black belt, red goggles, and red cape, what adventures will he go on and who will he save first?
Super Danny Coloring Page
Coloring may seem like a simple task, but there are many learning benefits associated with the activity. Coloring helps children develop finger grip (necessary for holding a pencil for writing)  and aids in the development of fine motor skills and hand/eye coordination. Coloring requires concentration and the ability to focus on a task. It also encourages color awareness and creativity by allowing children to explore how different color combinations change the appearance of the picture. Download our Super Danny coloring page here.
Danny Reading Posters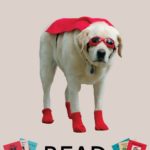 Colorful, fun posters can create a more stimulating and interesting environment for learning. The full-color 18 x 24″ Super Danny poster features Danny dressed as Super Danny. The fun poster is printed on heavy duty, 100# gloss book stock and shipped in a protective cardboard tube.
Browse all of our full-color posters, featuring Danny and his friends, to look for ideas to decorate your classroom and remind students that it's always a good time for reading.