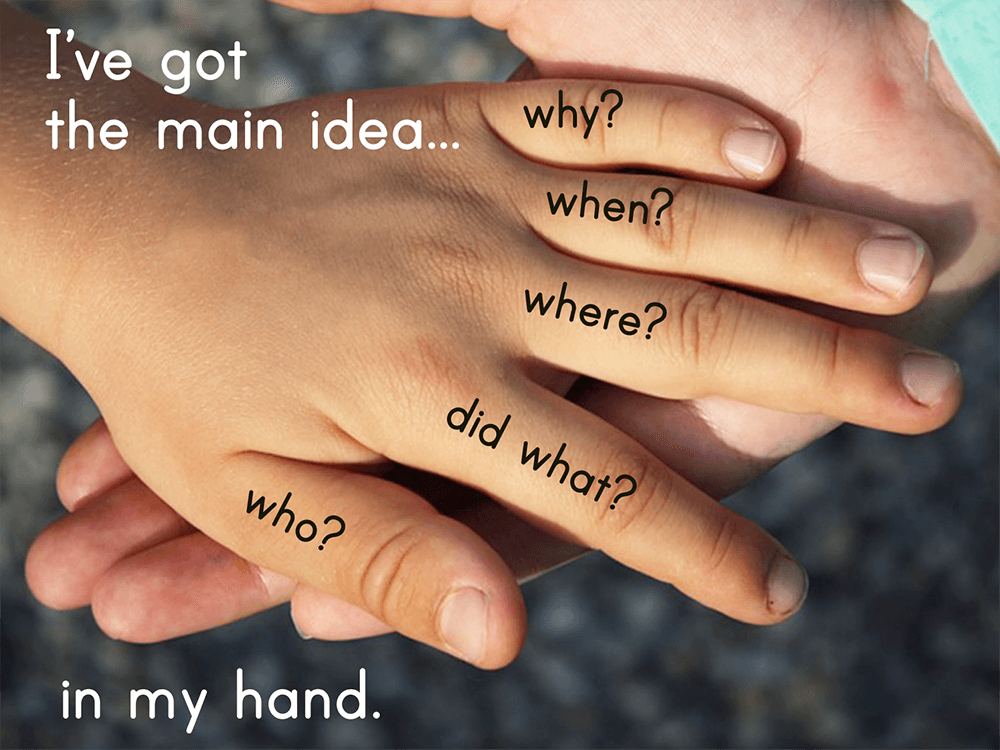 The main idea is the primary concept of a sentence and represents what the author is trying to say. Identifying main ideas, and working out the relationship between them and the supporting details, is the basis of reading comprehension. Recognizing the main idea is an important skill young readers need to master in order to fully understand what they're reading.
There are many things for readers to consider when trying to determine what the main idea is. Here's a fun way to help them… and it uses a tool that is always "handy."
Your thumb stands for WHO.
The main character in a story is very important. Identifying the most important character in the story helps us find the main idea.
Your pointer finger stands for did WHAT.
What did the main character do in the story?
Your middle finger stands for WHERE.
Where did the main character do what they did?
Your ring finger stands for WHEN.
When did the main character do what they did?
Your pinky stands for WHY.
Why did the main character do what they did?
Using the fingers on their own hand is an easy way for young readers to remember all five components. When they can identify these components, help them think about what finally happened in the story. This will lead them to the main idea. Young readers will need lots of practice with lots of stories. It might be helpful for students to have a print out of the next page in the classroom.