Are you wondering where a specific MaryRuth Books title falls across various reading leveling systems? This comparison chart will help make sense of it all. For each book, you can easily see:
Developmental Reading Assessment® (DRA) Level
Fountas & Pinnell Literacy™/Guided Reading Level
An up-to-date list is available here for you to view, or download a PDF copy that you can print.
Download Reading Levels Chart
Download this chart of MaryRuth Books titles and corresponding reading leveling information.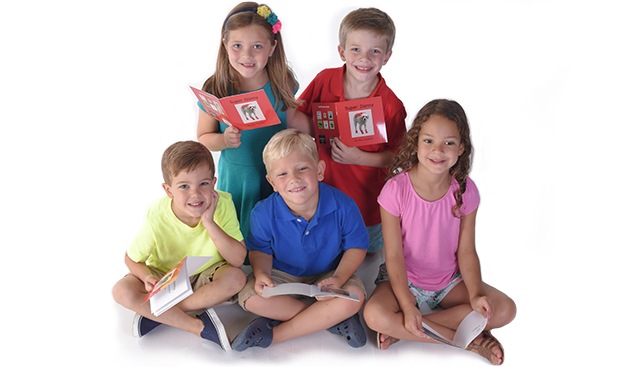 | TITLE | DRA LEVEL | READING RECOVERY® | F&P/ GUIDED READING | AR BOOK LEVEL ATOS | WORD COUNT | GENRE |
| --- | --- | --- | --- | --- | --- | --- |
| The Adventures of Super Danny and Bat-Bee* | 16 | 16 | K | 2.7 | 986 | F |
| Alive or Not Alive, Danny? | 3 | 3 | B | | 52 | F |
| All About Danny* | 2 | 2 | A | | 33 | F |
| All About Danny Lap Book | 2 | 2 | A | | 33 | F |
| At Grandma Ruth's House* | 3 | 4 | C | 0.6 | 37 | F |
| Autumn in the Woods | 14 | 13 | H | 1.7 | 155 | NF |
| Baby Elephant Goes for a Swim* | 3 | 4 | C | 0.9 | 45 | F |
| Baby Elephant Goes for a Swim Lap Book | 3 | 4 | C | 0.9 | 45 | F |
| Baby Elephant is Thirsty* | 12 | 12 | H | 1.5 | 188 | F |
| Baby Elephant is Thirsty Lap Book | 12 | 12 | H | 1.5 | 188 | F |
| Baby Elephant Runs Away* | 4 | 5 | D | 1.0 | 58 | F |
| Baby Elephant Runs Away Lap Book | 4 | 5 | D | 1.0 | 58 | F |
| Baby Elephant's Trunk* | 2 | 2 | B | | 36 | F |
| Baby Elephant's Trunk Lap Book | 2 | 2 | B | | 36 | F |
| A Bath for Lucky* | 12 | 11 | H | 1.7 | 196 | F |
| Bats in Danny's House* | 4 | 6 | D | 0.3 | 59 | F |
| Berries for Baby Elephant* | 6-8 | 8 | E | 1.6 | 93 | F |
| Berries for Baby Elephant Lap Book | 6-8 | 8 | E | 1.6 | 93 | F |
| Birds Around the Pond* | 14 | 7 | H | 1.5 | 105 | NF |
| A Birthday for Danny's Bee* | 4 | 6 | D | 0.8 | 78 | F |
| Botanist Danny* | 4 | 5 | E | 0.6 | 59 | NF |
| Brown Bears at the Zoo | 14 | 13 | I | 1.7 | 149 | NF |
| Camping Out* | 18-20 | 18 | J | 2.4 | 726 | F |
| Canada Geese Around the Pond* | 10 | 9 | F | 1.5 | 113 | NF |
| The Cat Wants to Play* | 3 | 3 | C | | 31 | F |
| Cats Like to Hide* | 3 | 4 | C | | 36 | NF |
| Cheetahs at the Zoo | 14 | 14 | I | | 133 | NF |
| Chicken Guard Dog | 12 | 11 | G | | 97 | F |
| Chickens* | 3 | 3 | C | | 39 | NF |
| The Chickens and the Fox* | 4 | 5 | D | 0.6 | 50 | F |
| Circus Fish | 6-8 | 8 | F | 0.7 | 80 | F |
| Cookies for Danny* | 4 | 5 | D | 0.3 | 58 | F |
| Counting Frogs Around the Pond | 1 | 2 | A | | 33 | NF |
| Cows* | 3 | 4 | C | 0.4 | 37 | NF |
| Dandelion Danny* | 4 | 5 | D | 0.8 | 76 | F |
| Danny and Abby are Friends* | 6-8 | 7 | E | 0.7 | 109 | F |
| Danny and Abby Play Hospital* | 4 | 6 | E | 0.8 | 60 | F |
| Danny and Abby Play Tag* | 6-8 | 7 | E | 0.7 | 76 | F |
| Danny and Bee Play Together* | 4 | 7 | D | 0.9 | 84 | F |
| Danny and Bee Play Together Lap Book | 4 | 7 | D | 0.9 | 84 | F |
| Danny and Bee's Book of Opposites | 3 | 4 | D | 0.3 | 62 | F |
| Danny and Bee's Safety Rules* | 10 | 9 | F | 1.0 | 106 | F |
| Danny and Bee's Safety Rules Lap Book | 10 | 9 | F | 1.0 | 106 | F |
| Danny and Dad Go on a Picnic | 14 | 13 | H | 1.7 | 224 | F |
| Danny and Dad Go Shopping* | 3 | 4 | C | 0.8 | 69 | F |
| Danny and Dad Read* | 4 | 6 | D | 1.2 | 61 | F |
| Danny and Heather Share | 6-8 | 8 | E | | 72 | F |
| Danny and Norman's Snowman* | 6-8 | 7 | E | 0.9 | 125 | F |
| Danny and The Big Race | 3 | 4 | C | 0.8 | 31 | F |
| Danny and the Bully* | 14 | 14 | H | 1.6 | 344 | F |
| Danny and the Corn Maze* | 4 | 5 | D | | 47 | F |
| Danny and the Four Seasons* | 3 | 4 | C | 0.6 | 55 | F |
| Danny and the Little Bunny* | 4 | 6 | D | 1.2 | 78 | F |
| Danny and the Little Worm* | 12 | 11 | F | 1.3 | 174 | F |
| Danny and the Monarch Butterfly* | 16 | 15 | I | 2.2 | 282 | NF |
| Danny and the Runaway Train* | 6-8 | 8 | C | | 110 | F |
| Danny at the Car Wash | 10 | 10 | E | 0.7 | 124 | F |
| Danny Can Sort* | 2 | 2 | C | | 42 | F |
| Danny Follows the Signs* | 6-8 | 8 | E | 0.9 | 98 | F |
| Danny Gets Fit* | 6-8 | 8 | E | 1.1 | 177 | F |
| Danny Goes For a Walk* | 4 | 5 | C | 0.7 | 50 | F |
| Danny is a Big Dog* | 3 | 5 | C | 0.5 | 52 | F |
| Danny Likes Apples | 4 | 6 | D | | 59 | F |
| Danny Likes Red* | 2 | 2 | B | | 28 | F |
| Danny Likes Red Lap Book | 2 | 2 | B | | 28 | F |
| Danny Likes to Help* | 4 | 5 | D | 0.5 | 60 | F |
| Danny Likes to Help Lap Book | 4 | 5 | D | 0.5 | 60 | F |
| Danny Looks for a Honeybee Yard* | 12 | 14 | G | 1.4 | 160 | F |
| Danny Looks for Abby* | 10 | 9 | E | 0.7 | 120 | F |
| Danny Makes a Mask* | 4 | 5 | C | 0.5 | 67 | F |
| Danny Meets Norman* | 4 | 4 | C | 0.9 | 56 | F |
| Danny Paints a Picture* | 10 | 9 | F | 1.1 | 117 | F |
| Danny the Dinosaur* | 3 | 3 | B | | 31 | F |
| Danny, Bee and the Skunk* | 4 | 6 | E | 0.5 | 71 | F |
| Danny, Norman and the Turtle | 6-8 | 7 | F | 0.7 | 65 | F |
| Danny's Bean Plant* | 12 | 11 | G | | 119 | F |
| Danny's Bee (the beginning) | 1 | 1 | A | | 5 | F |
| Danny's Big Adventure* | 18-20 | 18 | J | 2.2 | 1254 | F |
| Danny's Birthday Wishes* | 4 | 5 | D | 0.7 | 49 | F |
| Danny's Birthday Wishes Lap Book | 4 | 5 | D | 0.7 | 49 | F |
| Danny's Castle | 4 | 6 | D | 0.5 | 61 | F |
| Danny's Dinner* | 6-8 | 8 | G | 0.8 | 142 | F |
| Danny's Favorite Shapes* | 4 | 5 | F | 1.4 | 95 | F |
| Danny's Five Little Pumpkins* | 3 | 3 | C | | 51 | F |
| Danny's Five Senses* | 4 | 5 | D | | 52 | F |
| Danny's Game of Sink or Float* | 4 | 6 | D | 1.1 | 92 | F |
| Danny's Garden* | 6-8 | 8 | E | 1.1 | 67 | F |
| Danny's Garden Lap Book | 6-8 | 8 | E | 1.1 | 67 | F |
| Danny's Groundhog Day* | 10 | 10 | F | 0.8 | 126 | F |
| Danny's Hair is Everywhere* | 4 | 5 | D | | 38 | F |
| Danny's Hats* | 2 | 3 | B | 0.4 | 54 | F |
| Danny's New Toy* | 6-8 | 7 | E | 0.8 | 70 | F |
| Danny's New Toy Lap Book | 6-8 | 7 | E | 0.8 | 70 | F |
| Danny's Party* | 1 | 1 | B | | 27 | F |
| Danny's Picture Day* | 4 | 7 | D | 0.8 | 66 | F |
| Danny's Really Big Show | 12 | 12 | G | | 143 | F |
| Danny's Rocket* | 12 | 12 | G | 1.1 | 131 | F |
| Danny's Rocket Lap Book | 12 | 12 | G | 1.1 | 131 | F |
| Danny's Shadow* | 3 | 6 | C | 0.8 | 76 | F |
| Danny's Special Tree* | 24-28 | 20 | M | 2.6 | 400 | NF |
| Danny's Timeline* | 4 | 5 | D | | 73 | F |
| Danny's Timeline Lap Book | 4 | 5 | D | | 73 | F |
| Danny's Toy Basket* | 2 | 2 | B | | 37 | F |
| Danny's Window* | 3 | 3 | C | 0.2 | 62 | F |
| The Drone | 10 | 10 | F | | 113 | F |
| Elephants at the Zoo | 14 | 14 | I | 2.3 | 195 | NF |
| Entomologist Danny | 6-8 | 8 | F | 0.7 | 77 | NF |
| The Farm* | 2 | 2 | B | | 56 | NF |
| A Fish Story | 3 | 4 | C | | 51 | F |
| Five Danny Dogs* | 6-8 | 8 | F | 1.2 | 122 | F |
| Flamingos at the Zoo* | 12 | 12 | G | | 122 | NF |
| The Fort* | 16 | 17 | I | 2.2 | 533 | F |
| Geologist Danny* | 4 | 5 | E | 0.9 | 75 | NF |
| Get Down Danny* | 2 | 2 | C | | 32 | F |
| Giddyup Lucky* | 6-8 | 7 | F | 1.2 | 128 | F |
| Giraffes at the Zoo* | 10 | 9 | H | 1.7 | 124 | NF |
| A Goat* | 3 | 4 | C | 0.5 | 42 | NF |
| Grandma Ruth Feeds Her Friends* | 4 | 5 | D | 0.7 | 57 | F |
| Grandma Ruth's Garden* | 3 | 4 | C | 0.8 | 33 | F |
| Grandma Ruth's Glasses* | 3 | 4 | C | | 34 | F |
| Halloween Danny* | 6-8 | 8 | E | 0.7 | 51 | F |
| Hold Still, Danny! | 6-8 | 7 | D | | 75 | F |
| Horse Colors* | 1 | 1 | B | | 23 | NF |
| I Am Danny* | 1 | 1 | A | | 23 | F |
| I Like Flowers* | 2 | 2 | B | | 35 | F |
| Lions at the Zoo | 14 | 13 | I | | 166 | NF |
| Little Pig* | 2 | 2 | B | | 24 | F |
| Little Pig Gets Stuck* | 4 | 5 | D | 0.7 | 62 | F |
| Little Raccoon in My Yard, The | 3 | 3 | C | | 28 | NF |
| Locked In* | 18-20 | 18 | J | 2.5 | 970 | F |
| Look at Danny* | 3 | 3 | C | | 39 | F |
| Looking for a Pony* | 3 | 4 | D | | 47 | F |
| The Lost Dog | 18-20 | 18 | J | | 766 | F |
| A Lucky Pony* | 6-8 | 7 | D | 0.6 | 76 | F |
| Lunch for Baby Elephant* | 1 | 1 | A | | 12 | F |
| Lunch for Baby Elephant Lap Book | 1 | 1 | A | | 12 | F |
| More Fish for Fish | 12 | 11 | G | | 114 | F |
| Moving* | 18-20 | 19 | K | 2.9 | 1171 | F |
| My Name is Norman | 2 | 2 | B | 0.5 | 24 | F |
| My Yard | 2 | 2 | B | | 26 | NF |
| A New Home For Fish* | 4 | 5 | D | | 63 | F |
| Norman Hides from Danny* | 6-8 | 7 | F | 0.9 | 113 | F |
| Norman is a Superhero | 6-8 | 6 | E | 0.7 | 58 | F |
| Norman Wants to Play with Danny* | 6-8 | 8 | G | 0.7 | 120 | F |
| Norman's First Halloween | 4 | 5 | C | 0.9 | 53 | F |
| Norman's Loose Tooth* | 6-8 | 9 | E | 1.4 | 65 | F |
| Ornithologist Danny | 3 | 4 | C | | 64 | NF |
| A Peanut for the Little Chipmunk* | 6-8 | 7 | E | 1.4 | 97 | F |
| Penguins at the Zoo* | 6-8 | 8 | E | | 84 | NF |
| Pigs* | 4 | 5 | D | 0.6 | 77 | NF |
| Pirate Fish | 6-8 | 7 | E | 1.3 | 62 | F |
| Polar Bears at the Zoo* | 14 | 13 | H | | 141 | NF |
| The Pond | 2 | 3 | B | | 48 | NF |
| Puppy Danny* | 6-8 | 7 | E | 1.6 | 136 | F |
| Puppy Danny Lap Book | 6-8 | 7 | E | 1.6 | 136 | F |
| Red Pandas at the Zoo | 12 | 12 | G | | 85 | NF |
| Rhinoceroses at the Zoo* | 12 | 13 | G | | 124 | NF |
| Robins in My Yard, The | 2 | 2 | B | | 30 | NF |
| Snow Danny* | 6-8 | 7 | E | 0.8 | 57 | F |
| Spring in the Woods | 14 | 14 | H | 1.7 | 146 | NF |
| Spy Danny* | 14 | 14 | I | 1.6 | 230 | F |
| Spy Danny Lap Book | 14 | 14 | I | 1.6 | 230 | F |
| Summer in the Woods | 14 | 13 | H | 1.4 | 150 | NF |
| Super Danny* | 2 | 2 | C | | 35 | F |
| Super Danny Board Book | 2 | 2 | C | | 35 | F |
| Tigers at the Zoo | 12 | 12 | H | 1.6 | 103 | NF |
| Tortoises at the Zoo | 12 | 11 | H | | 110 | NF |
| Tummy Trouble for Danny* | 3 | 5 | C | 0.6 | 50 | F |
| Turtles Around the Pond | 3 | 6 | C | 1.1 | 59 | NF |
| A Week at Grandma Ruth's* | 18-20 | 20 | K | 3.2 | 1259 | F |
| Who's in the Chicken Coop?* | 6-8 | 7 | G | 1.0 | 95 | F |
| Winter in the Woods | 18-20 | 17 | J | 2.4 | 223 | NF |
| The Woods | 2 | 3 | B | | 32 | NF |
| The Yellow Coat | 3 | 4 | C | | 46 | F |
| The Zoo* | 1 | 2 | A | | 52 | NF |
*Indicates book is on the Reading Recovery® Book List