Sensory Poems describe something through the five senses: sight, touch, smell, sound, and taste. They often contain similes. Download our December calendar with Danny's Sensory Poem about the cake Bee baked. Cut out the poem and glue it into your Poetry Notebook. Write your own Sensory Poem using the template.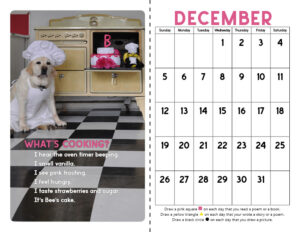 Children love connecting with their favorite characters – both in and out of books. Our monthly calendar pages, featuring favorite MaryRuth Books characters, are fun in the classroom and a great way to continue fostering a love of reading. New calendar pages are released each month.
Be sure to check out our other fun supplemental Danny items for bringing reading to life in your classroom.

Danny Cards
Greeting cards for every season and holiday featuring the kind-hearted and clever Danny.
Plush Characters
Plush toys of Danny and his friends are the perfect reading buddies to encourage young readers.

Posters
Foster a love of reading with vibrant wall posters featuring original photography of Danny and friends.
2021 Danny Calendars
Previous Danny Calendars
SaveSave
SaveSave
SaveSave
SaveSave
SaveSave
SaveSave
SaveSave
SaveSave
SaveSave
SaveSave
SaveSave