Lisa's Story:
Lisa Blanc's understanding of the enormous benefits of early literacy with regards to a child's overall education, led her to pursue the graduate level academic work and field requirements necessary to become a Reading Recovery® Teacher Leader. As a Teacher Leader, Lisa has trained over 35 Reading Recovery® Teachers in the Santa Clara Unified School District, making a measurable contribution to that district's solid literacy program. Lisa is currently the principal at Bowers Elementary School, a Santa Clara school that serves students from preschool through fifth grade.
It All Started at a Reading Recovery® Conference
Lisa first learned about MaryRuth Books when, as a literacy teacher, she attended a Reading Recovery® conference in 2011. She fell in love with the stories about Danny and thought that her students would too. When she began using the books during one-on-one reading time, Lisa said that her students were able to immediately relate to the books and see their humor. "They're cute stories and the pictures are really great because they're real," she stated. "The stories are easily accessible to kids. They instantly connect with them and the characters keep them interested."
Struggling Readers Finally See the Light
As the principal at Bowers Elementary School, Lisa now watches the Reading Recovery® teachers on her team use the MaryRuth Books titles in the same way she did. She still feels that the books are a valuable resource for students. "They're engaging and fun," she said."That makes them a great launching point, not just for the students in the Reading Recovery® program, but for any young reader."
Lisa delights in witnessing students becoming successful readers. Her happiness is obvious when she tells the story of a young boy who was able to make a complete turnaround, with help from MaryRuth Books. The boy was in a stressful home situation, chronically tardy, and frequently absent from school. When at school, he was distracted and unable to concentrate. He began falling behind. When his teacher showed him some of the MaryRuth Books, he got hooked on Danny and regained his motivation. Lisa feels that the Danny books helped this young student in ways that other books, up to that point, hadn't been able to do.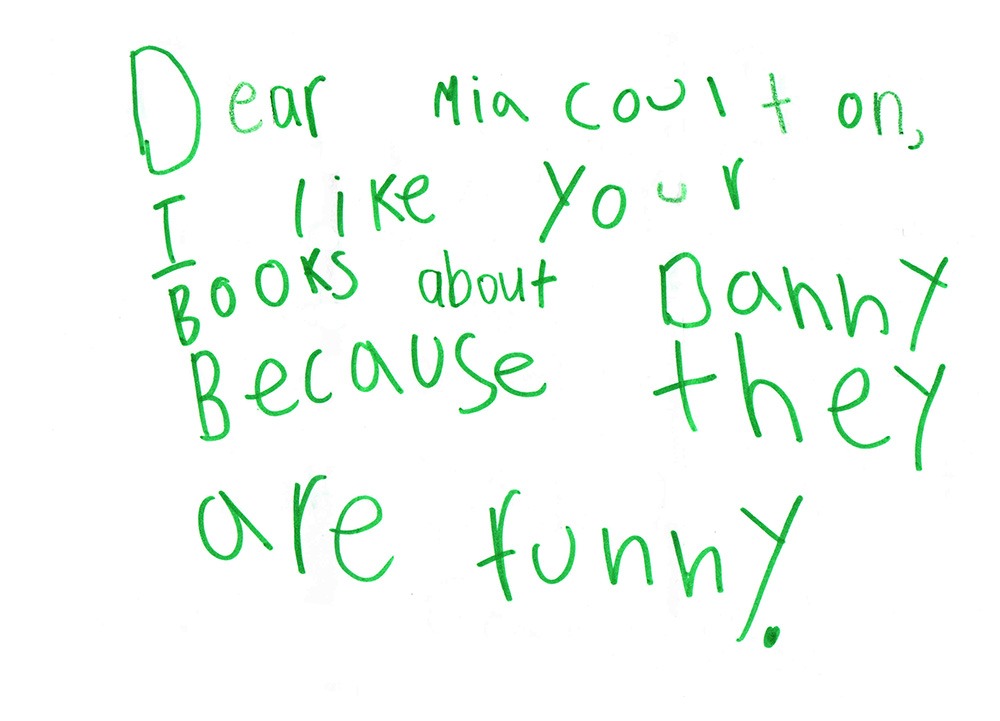 We found out about Lisa's experience because she was so overjoyed by this student's success that she and he wrote letters to us at MaryRuth Books. In her letter Lisa wrote, "Today John just read Danny's Rocket cold and absolutely loved it. I think what resonates with students like John is that the stories are cute and the characters are lovable. Students want to read more and more stories to see what happens with each of the characters." John's letter was short. It appears above.
Your Students Will Love Danny, Too
Like Lisa and her students over the years, we hope that your young reader will enjoy meeting and getting to know the characters in our books. We meet beginning readers where they are, offering texts for every stage of progress and every level of reader. Start shopping now!