Sarah's Story:
Sarah Eckenrode is a Lessons In Literacy teacher at Mary Williams Elementary School in Dumfries, VA. She's been teaching for 17 years, originally inspired by a desire to work with young children. It wasn't a surprise that Sarah chose teaching. Both of her parents are educators. Her father is an art teacher and her mother, a college professor. When Sarah's not busy with one-on-one Lessons In Literacy, she teaches group reading sessions in her school's first and second grade classrooms.
Books with Realistic, Relatable Text
Sarah became a Lessons In Literacy teacher in 2016, the same year she discovered MaryRuth Books. She was drawn to the realistic, accessible nature of the texts. And her students felt the same way. They are devoted to Danny and the other main characters from the books. Sarah says that her young readers love absolutely anything with Danny in it and can't get enough of his adventures.
McKenzie & Danny Restore Confidence in Readers
McKenzie was one of Sarah's Lessons In Literacy students who was having a particularly difficult time with reading. She was working hard, but still struggling, and it began to affect her self-confidence. When McKenzie was given a Danny book, Sarah said, "Something clicked and she began to enjoy reading."
McKenzie seems happier now and is displaying much more confidence when reading. Her affection for Danny has even extended into her including him in her writing sessions. It was McKenzie's idea that she and her teacher, Miss Eckenrode, write a letter to Danny. And when they did, Danny wrote back! Other reading teachers heard about McKenzie's letter and Danny's response, and they have adopted the idea, encouraging their students to write to Danny and Norman also. We, at MaryRuth Books, love the notion. Anything that makes young students enthusiastic about practicing their writing skills is a great idea.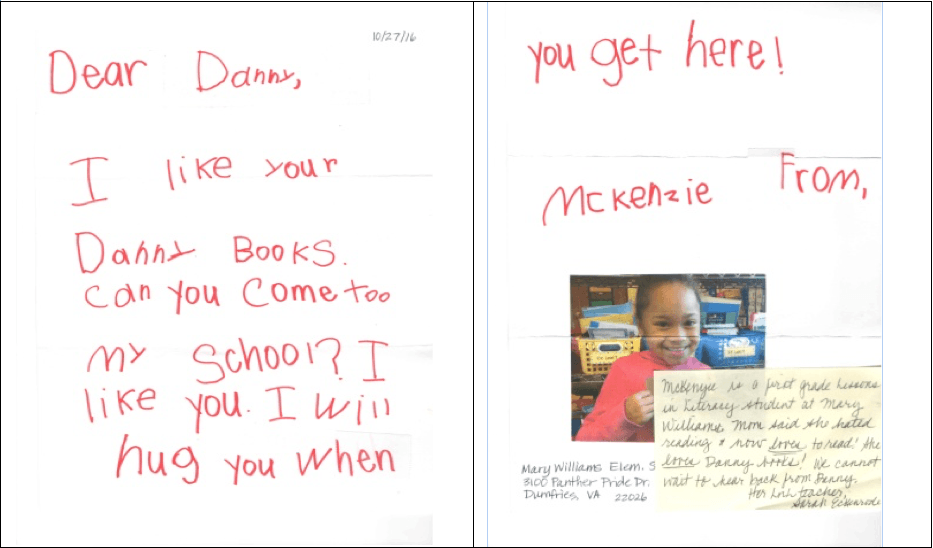 Learn More About MaryRuth Books
Do you want to get your students excited about reading, too? Open them up to a whole new world of reading with MaryRuth Books. Contact us for more information.