Are you wondering where a specific MaryRuth Books title falls across various reading leveling systems? This comparison list will help make sense of it all. For each book, you can easily see how the different literacy organizations independent leveling compares.
Compare Reading Leveling Systems
Download a chart that shows a comparison of various literacy leveling systems, or a customized list of MaryRuth Books titles and their corresponding reading leveling information. To help with student assessment, each MaryRuth Books title has a corresponding running record available as a free download on the individual title, or book set, product page. Please feel free to sample our books before you buy, online, cover to cover.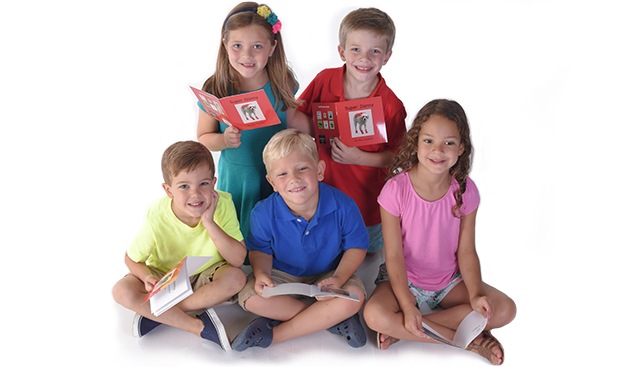 | TITLE | DRA LEVEL | READING RECOVERY® LEVEL | FOUNTAS & PINNELL LEVEL | ACCELERATED READER® BOOK LEVEL ATOS | WORD COUNT | GENRE |
| --- | --- | --- | --- | --- | --- | --- |
| Adventures of Super Danny and Bat-Bee, The* | 16 | 16 | K | 2.7 | 986 | F |
| Alive or Not Alive, Danny?* | 3 | 4 | B | | 52 | F |
| All About Danny Lap Book | 2 | 2 | A | | 33 | F |
| All About Danny* | 2 | 2 | A | | 33 | F |
| All My Friends* | 18-20 | 19 | K | | 1035 | F |
| Aquarium, The* | 2 | 4 | B | | 52 | NF |
| At Grandma Ruth's House* | 3 | 4 | C | 0.6 | 37 | F |
| Autumn in the Woods* | 14 | 13 | H | 1.7 | 155 | NF |
| Baby Elephant Goes for a Swim Lap Book | 3 | 4 | C | 0.9 | 45 | F |
| Baby Elephant Goes for a Swim* | 3 | 4 | C | 0.9 | 45 | F |
| Baby Elephant is Thirsty Lap Book | 12 | 12 | H | 1.5 | 188 | F |
| Baby Elephant is Thirsty* | 12 | 12 | H | 1.5 | 188 | F |
| Baby Elephant Runs Away Lap Book | 4 | 5 | D | 1.0 | 58 | F |
| Baby Elephant Runs Away* | 4 | 5 | D | 1.0 | 58 | F |
| Baby Elephant's Trunk Lap Book | 2 | 2 | B | | 36 | F |
| Baby Elephant's Trunk* | 2 | 2 | B | | 36 | F |
| Bath for Lucky, A* | 12 | 11 | H | 1.7 | 196 | F |
| Beluga Whales at the Aquarium* | 14 | 13 | H | | 134 | NF |
| Bats in Danny's House* | 4 | 6 | D | 0.3 | 59 | F |
| Berries for Baby Elephant Lap Book | 6-8 | 8 | E | 1.6 | 93 | F |
| Berries for Baby Elephant* | 6-8 | 8 | E | 1.6 | 93 | F |
| Birds Around the Pond* | 14 | 7 | H | 1.5 | 105 | NF |
| Birthday for Danny's Bee, A* | 4 | 6 | D | 0.8 | 78 | F |
| Botanist Danny* | 4 | 5 | E | 0.6 | 59 | F |
| Brown Bears at the Zoo* | 14 | 13 | I | 1.7 | 149 | NF |
| Calves at the Zoo | 2 | 2 | B | | 33 | NF |
| Camping Out* | 18-20 | 18 | J | 2.4 | 726 | F |
| Canada Geese Around the Pond* | 10 | 9 | F | 1.5 | 113 | NF |
| Cat Wants to Play, The* | 3 | 3 | C | | 31 | F |
| Cats Like to Hide* | 3 | 4 | C | | 36 | NF |
| Cheetahs at the Zoo* | 14 | 14 | I | 1.7 | 133 | NF |
| Chicken Guard Dog* | 12 | 11 | G | 1.1 | 99 | F |
| Chicken School* | 10 | 10 | F | | 149 | F |
| Chickens and the Fox, The* | 4 | 5 | D | 0.6 | 50 | F |
| Chickens* | 3 | 3 | C | | 39 | NF |
| Circus Fish | 6-8 | 8 | F | 0.7 | 80 | F |
| Cookies for Danny* | 4 | 5 | D | 0.3 | 58 | F |
| Counting Frogs Around the Pond | 1 | 2 | A | | 33 | NF |
| Cows* | 3 | 4 | C | 0.4 | 37 | NF |
| Cubs at the Zoo | 2 | 2 | B | | 30 | NF |
| Dandelion Danny* | 4 | 5 | D | 0.8 | 76 | F |
| Danny and Abby are Friends* | 6-8 | 7 | E | 0.7 | 109 | F |
| Danny and Abby Play Hospital* | 4 | 6 | E | 0.8 | 60 | F |
| Danny and Abby Play Tag* | 6-8 | 7 | E | 0.7 | 76 | F |
| Danny and Bee Play Together Lap Book | 4 | 7 | D | 0.9 | 84 | F |
| Danny and Bee Play Together* | 4 | 7 | D | 0.9 | 84 | F |
| Danny and Bee's Book of Opposites | 3 | 4 | D | 0.3 | 41 | F |
| Danny and Bee's Safety Rules Lap Book | 10 | 9 | F | 1.0 | 106 | F |
| Danny and Bee's Safety Rules* | 10 | 9 | F | 1.0 | 106 | F |
| Danny and Dad Go on a Picnic* | 14 | 13 | H | 1.7 | 224 | F |
| Danny and Dad Go Shopping* | 3 | 4 | C | 0.8 | 69 | F |
| Danny and Dad Read* | 4 | 6 | D | 1.2 | 61 | F |
| Danny and Heather Share | 6-8 | 8 | E | | 72 | F |
| Danny and Norman at the Car Show | 3 | 3 | B | | 36 | F |
| Danny and Norman's Favorite Knock Knock Jokes | 14 | 14 | I | | 170 | F |
| Danny and Norman's Snowman* | 6-8 | 7 | E | 0.9 | 125 | F |
| Danny and The Big Race* | 3 | 4 | C | 0.8 | 33 | F |
| Danny and the Bully* | 14 | 14 | H | 1.6 | 344 | F |
| Danny and the Corn Maze* | 4 | 5 | D | | 47 | F |
| Danny and the Four Seasons* | 3 | 4 | C | 0.6 | 55 | F |
| Danny and the Little Bunny* | 4 | 6 | D | 1.2 | 78 | F |
| Danny and the Little Worm* | 12 | 11 | F | 1.3 | 174 | F |
| Danny and the Monarch Butterfly* | 16 | 15 | I | 2.2 | 282 | NF |
| Danny and the Runaway Train* | 6-8 | 8 | C | | 110 | F |
| Danny at the Car Wash | 10 | 10 | E | 0.7 | 124 | F |
| Danny Can Sort* | 2 | 2 | C | | 42 | F |
| Danny Follows the Signs* | 6-8 | 8 | E | 0.9 | 98 | F |
| Danny Gets Fit* | 6-8 | 8 | E | 1.1 | 177 | F |
| Danny Goes For a Walk* | 4 | 5 | C | 0.7 | 50 | F |
| Danny is a Big Dog* | 3 | 5 | C | 0.5 | 52 | F |
| Danny Likes Apples* | 4 | 7 | D | 1.0 | 59 | F |
| Danny Likes Red Lap Book | 2 | 2 | B | | 28 | F |
| Danny Likes Red* | 2 | 2 | B | | 28 | F |
| Danny Likes to Help Lap Book | 4 | 5 | D | 0.5 | 60 | F |
| Danny Likes to Help* | 4 | 5 | D | 0.5 | 60 | F |
| Danny Looks for a Honeybee Yard* | 12 | 14 | G | 1.4 | 160 | F |
| Danny Looks for Abby* | 10 | 9 | E | 0.7 | 120 | F |
| Danny Makes a Mask* | 4 | 5 | C | 0.5 | 67 | F |
| Danny Meets Norman* | 4 | 4 | C | 0.9 | 56 | F |
| Danny Paints a Picture* | 10 | 9 | F | 1.1 | 117 | F |
| Danny the Dinosaur* | 3 | 3 | B | | 31 | F |
| Danny's Bee Goes to the Hospital* | 12 | 12 | G | 1.3 | 149 | F |
| Danny's Tadpoles | 4 | 5 | D | 1.0 | 69 | F |
| Danny, Bee and the Skunk* | 4 | 6 | E | 0.5 | 70 | F |
| Danny, Norman and the Turtle* | 6-8 | 8 | F | 0.7 | 65 | F |
| Danny's Bean Plant* | 12 | 11 | G | 1.7 | 119 | F |
| Danny's Bee (the beginning) | 1 | 1 | A | | 5 | F |
| Danny's Big Adventure* | 18-20 | 18 | J | 2.2 | 1254 | F |
| Danny's Birthday Wishes Lap Book | 4 | 5 | D | 0.7 | 46 | F |
| Danny's Birthday Wishes* | 4 | 5 | D | 0.7 | 46 | F |
| Danny's Castle | 4 | 6 | D | 0.5 | 61 | F |
| Danny's Dinner* | 6-8 | 8 | G | 0.8 | 142 | F |
| Danny's Favorite Shapes* | 4 | 5 | F | 1.4 | 95 | F |
| Danny's Five Little Pumpkins* | 3 | 3 | C | | 51 | F |
| Danny's Five Senses* | 4 | 5 | D | | 52 | F |
| Danny's Game of Sink or Float* | 4 | 6 | D | 1.1 | 92 | F |
| Danny's Garden Lap Book | 6-8 | 8 | E | 1.1 | 84 | F |
| Danny's Garden* | 6-8 | 8 | E | 1.1 | 84 | F |
| Danny's Groundhog Day* | 10 | 10 | F | 0.8 | 126 | F |
| Danny's Hair is Everywhere* | 4 | 5 | D | | 38 | F |
| Danny's Hats* | 2 | 3 | B | 0.4 | 54 | F |
| Danny's New Toy Lap Book | 6-8 | 7 | E | 0.8 | 70 | F |
| Danny's New Toy* | 6-8 | 7 | E | 0.8 | 70 | F |
| Danny's Party* | 1 | 1 | B | | 27 | F |
| Danny's Picture Day* | 4 | 7 | D | 0.8 | 66 | F |
| Danny's Really Big Show* | 12 | 12 | G | 1.0 | 143 | F |
| Danny's Rocket Lap Book | 12 | 12 | G | 1.1 | 131 | F |
| Danny's Rocket* | 12 | 12 | G | 1.1 | 131 | F |
| Danny's Shadow* | 3 | 6 | C | 0.8 | 76 | F |
| Danny's Special Tree* | 24-28 | 20 | M | 2.6 | 400 | NF |
| Danny's Timeline Lap Book | 4 | 5 | D | | 73 | F |
| Danny's Timeline* | 4 | 5 | D | | 73 | F |
| Danny's Toy Basket* | 2 | 2 | B | | 37 | F |
| Danny's Window* | 3 | 3 | C | 0.2 | 62 | F |
| Donkeys | 4 | 5 | D | | 61 | NF |
| Drone, The* | 10 | 8 | F | 1.0 | 113 | F |
| Duck, Duck, Goose | 2 | 2 | B | | 19 | NF |
| Elephants at the Zoo* | 14 | 22 | I | 2.3 | 195 | NF |
| Entomologist Danny | 6-8 | 8 | F | 0.7 | 77 | F |
| Farm, The* | 2 | 2 | B | | 56 | NF |
| Fish Story, A | 3 | 4 | C | | 51 | F |
| Five Danny Dogs* | 6-8 | 8 | F | 1.2 | 122 | F |
| Flamingos at the Zoo* | 12 | 12 | G | 2.5 | 122 | NF |
| Fort, The* | 16 | 17 | I | 2.2 | 533 | F |
| Geologist Danny* | 4 | 5 | E | 0.9 | 75 | F |
| Get Down Danny* | 2 | 2 | C | | 32 | F |
| Giddyup Lucky* | 6-8 | 7 | F | 1.2 | 128 | F |
| Giraffes at the Zoo* | 10 | 9 | H | 1.7 | 124 | NF |
| Goat, A* | 3 | 4 | C | 0.5 | 42 | NF |
| Grandma Ruth Feeds Her Friends* | 4 | 5 | D | 0.7 | 57 | F |
| Grandma Ruth's Garden* | 3 | 4 | C | 0.8 | 33 | F |
| Grandma Ruth's Glasses* | 3 | 4 | C | | 34 | F |
| Halloween Danny* | 6-8 | 8 | E | 0.7 | 51 | F |
| Hold Still, Danny!* | 6-8 | 7 | D | | 75 | F |
| Horse Colors* | 1 | 1 | B | | 23 | NF |
| I Am Danny* | 1 | 1 | A | | 23 | F |
| I Like Flowers* | 2 | 2 | B | | 35 | F |
| Jellies at the Aquarium* | 14 | 14 | H | | 154 | NF |
| Lions at the Zoo* | 14 | 13 | I | 2.0 | 163 | NF |
| Little Pig Gets Stuck* | 4 | 5 | D | 0.7 | 62 | F |
| Little Pig* | 2 | 2 | B | | 24 | F |
| Little Raccoon in My Yard, The* | 3 | 3 | C | | 28 | NF |
| Locked In* | 18-20 | 18 | J | 2.5 | 970 | F |
| Lola and the Frog* | 6-8 | 6 | D | | 50 | F |
| Lola is Feeling Hungry* | 2 | 2 | B | | 20 | F |
| Lola Looks Up* | 2 | 2 | B | | 25 | F |
| Lola's Lost Collar* | 10 | 8 | E | | 89 | F |
| Look at Danny* | 3 | 3 | C | | 39 | F |
| Looking for a Pony* | 3 | 4 | D | | 47 | F |
| Lost Dog, The* | 18-20 | 18 | J | 2.5 | 766 | F |
| Loud and Quiet at the Zoo | 2 | 2 | B | | 33 | NF |
| Lucky Pony, A* | 6-8 | 7 | D | 0.6 | 76 | F |
| Lunch for Baby Elephant Lap Book | 1 | 1 | A | | 12 | F |
| Lunch for Baby Elephant* | 1 | 1 | A | | 12 | F |
| Manatee at the Aquarium, The* | 6-8 | 8 | F | | 68 | NF |
| Moray Eel at the Aquarium, The* | 12 | 12 | H | | 127 | NF |
| More Fish for Fish* | 12 | 10 | G | 1.3 | 115 | F |
| Moving* | 18-20 | 19 | K | 2.9 | 1171 | F |
| My Cat, Lola* | 3 | 3 | B | | 40 | F |
| My Name is Norman* | 2 | 3 | B | 0.5 | 24 | F |
| My Yard* | 2 | 2 | B | | 26 | NF |
| New Home for Fish, A* | 4 | 5 | D | | 63 | F |
| Norman Hides from Danny* | 6-8 | 7 | F | 0.9 | 113 | F |
| Norman is a Superhero | 6-8 | 6 | E | 0.7 | 58 | F |
| Norman Wants to Play with Danny* | 6-8 | 8 | G | 0.7 | 120 | F |
| Norman's Candy Hearts* | 3 | 3 | B | | 38 | F |
| Norman's First Halloween* | 4 | 5 | C | 0.9 | 53 | F |
| Norman's Loose Tooth* | 6-8 | 9 | E | 1.4 | 65 | F |
| Octopus at the Aquarium, The* | 12 | 12 | G | | 97 | NF |
| Oh No, Norman! | 6-8 | 7 | D | 0.9 | 82 | F |
| Ornithologist Danny* | 3 | 4 | C | 0.7 | 64 | F |
| Peanut for the Little Chipmunk, A* | 6-8 | 7 | E | 1.4 | 97 | F |
| Penguins at the Zoo* | 6-8 | 8 | E | 1.5 | 84 | NF |
| Pigs* | 4 | 5 | D | 0.6 | 77 | NF |
| Pirate Fish | 6-8 | 7 | E | 1.3 | 62 | F |
| Pizza Delivery | 14 | 13 | H | | 104 | F |
| Polar Bears at the Zoo* | 14 | 13 | H | 1.8 | 141 | NF |
| Pond, The | 2 | 2 | B | | 48 | NF |
| Porter The Therapy Dog* | 6-8 | 7 | E | | 108 | F |
| Puppy Danny Lap Book | 6-8 | 7 | E | 1.6 | 136 | F |
| Puppy Danny* | 6-8 | 7 | E | 1.6 | 136 | F |
| Red Pandas at the Zoo | 12 | 7 | G | 1.3 | 85 | NF |
| Rhinoceroses at the Zoo* | 12 | 13 | G | 2.3 | 124 | NF |
| Robins in My Yard, The* | 2 | 2 | B | | 30 | NF |
| Sea Turtles at the Aquarium* | 16 | 15 | I | | 210 | NF |
| Seahorses at the Aquarium* | 12 | 11 | G | | 132 | NF |
| Sharks at the Aquarium* | 12 | 12 | G | | 117 | NF |
| Snow Danny* | 6-8 | 7 | E | 0.8 | 57 | F |
| Spring in the Woods* | 14 | 14 | H | 1.7 | 146 | NF |
| Spy Danny Lap Book | 14 | 14 | I | 1.6 | 230 | F |
| Spy Danny* | 14 | 14 | I | 1.6 | 230 | F |
| Stink Bugs in Danny's House* | 4 | 4 | C | 0.9 | 68 | F |
| Stripes at the Zoo | 3 | 3 | C | | 46 | NF |
| Summer in the Woods* | 14 | 14 | H | 1.4 | 150 | NF |
| Super Danny Board Book | 2 | 2 | C | | 35 | F |
| Super Danny* | 2 | 2 | C | | 35 | F |
| Swim Lesson, The | 3 | 3 | C | | 19 | F |
| Tigers at the Zoo* | 12 | 11 | H | 1.6 | 103 | NF |
| Tortoises at the Zoo* | 12 | 11 | H | 2.0 | 110 | NF |
| Trampoline, The | 10 | 9 | F | | 77 | F |
| Tummy Trouble for Danny* | 3 | 5 | C | 0.6 | 50 | F |
| Turtles Around the Pond | 3 | 5 | C | 1.1 | 59 | NF |
| Week at Grandma Ruth's, A* | 18-20 | 20 | K | 3.2 | 1259 | F |
| What Can Lola See? | 6-8 | 4 | C | | 50 | F |
| Who's in the Chicken Coop?* | 6-8 | 7 | G | 1.0 | 95 | F |
| Winter in the Woods* | 18-20 | 16 | J | 2.4 | 223 | NF |
| Woods, The | 2 | 3 | B | | 32 | NF |
| Yellow Coat, The* | 3 | 4 | C | | 46 | F |
| Zoo, The* | 1 | 2 | A | | 52 | NF |
| Duck Wants to Swim | 6-8 | 6 | D | | 103 | F |
| Donkey Goes Home | 3 | 3 | | | | |
*Indicates book is on the Reading Recovery® Book List