One of the things I like the MOST about Mary Ruth's books is the look...the font is so clear and consistent (perfect size), there is not clutter on the pages, the pictures are engaging and helpful. I really have enjoyed watching my students enjoy Mary Ruth books!
Chicago area elementary school reading teacher
I love the layout of MaryRuth Books. The layout of the text (spacing between words and lines of text) is very easy for the students to follow. The font style, size, and color is crisp and clean; perfect for beginning readers. The photos/artwork are eye-catching and provoke discussion. They also provide nice cues for meaning to the stories.
Reading Recovery Reading Teacher, Prairie Grove Elementary School
There are so many ManyRuth items that I love in the catalog: Open conversation cards, sequencing cards & posters! I especially love the vocabulary that is included in the level D science Danny books.
Reading Specialist, Gahanna-Jefferson Public Schools, Gahanna, OH
Love the photos.
Like the spacing of the words and the sentences.
Enjoy the familiar characters of Danny and the Bee that are in most all of the books.
Kids will connect with the dog.
Good size for little hands.
Nice repetition and sentence patterns.
Good font choice and size.
Kindergarten teacher, Prairie Grove Consolidated School District 46, Crystal Lake, IL
I love using MaryRuth books. I love Danny and the Car Wash because Bee actually is on the outside of the car, and that surprises students. I also love Danny's Hair is Everywhere because of that nasty lollipop. The pictures are so clear and often funny in Danny books. The kids can't get enough of the stories.
Reading Teacher, Lincoln Elementary School, OH
My students are begging for more Danny Books. They even love to sit and just look through the new catalog! Hilarious!
LOVE your books! I just received my first two sets in an order and plan to order more for our school Literacy Closet.
Literacy Teacher, Kaneland McDole School
The Danny Books by MaryRuth Books are beloved and hoarded by our beginning first grade readers. There is something very comforting in these books for our reluctant readers.
First Grade Teacher, Illinois
My autistic granddaughter is finally having success with reading. Many thanks to the Danny books. Of course, our 11 year old yellow lab, Barney, is enjoying listening to her read, too.
My third grade students just completed MOVING. I thought this book would be perfect as a "last" Danny book, a way to say goodbye to Danny. However, they don' t want to leave Danny behind and have plenty of ideas for future higher leveled books about Danny!
Your Danny series of books is just perfect for the students with whom I work. And I am speaking as a retired teacher who taught for 39 years.
The true success of these books is in the care you have given to writing them and making them just right for struggling readers.
I just fell in LOVE with the Danny stories! The books provided my at-risk readers with success as well as interesting subject matter to hold their attention.
Elementary School Literacy Specialist
I am a Special Education Teacher and I wanted to let you know how your "Danny" books have helped one of my students. My student is a 2nd grader who is learning disabled. Along with this, he has struggled over the years to behave correctly and complete his work. This is the first year he has ever read a book. It is because of Danny. He loves the real pictures and how we're following Danny through the events in his life. The consistency of the writing allows him to feel comfortable when starting a new Danny book. He wants to know more about Danny, such as why he can't see dad's face in the pictures and why you're not in the pictures if you're the author. I told him I would write to you for more information. While we understand that you are a busy author, nothing would make this little boy happier than to know that he contacted an author. This kind of an accomplishment would help him to strive to be a better student and continue to work hard to overcome his disability. I would personally like to thank you for writing these books with a student's needs in mind.
Note from MRB: Author Mia Coulton receives many letters from young readers wanting to know more about Danny, Norman, and Bee. Some letters include pictures or drawings. Mia enjoys hearing from Danny's fans and personally answers every letter.
Special Education Teacher
I love Danny and Norman. I especially like the counting book when there are all the puppies on the last page! Love.
The saddest book I read was the book called THE FORT. Can you write another book called DANNY TO THE RESCUE?
I really like your bookmarks. I can't wait to read a chapter book about Danny and Bee and Norman. Thank you!
My 6 year old son, Sam, loves the Danny series books! We get them at our local library. He enjoys reading about Danny's adventures and has a stuffed dog that looks like Danny. Thank you for creating such a wonderful series that is helping my kindergartner love to read!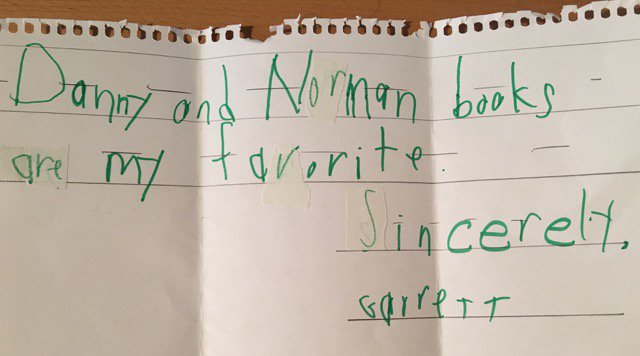 Danny and Norman books are my favorite.