Description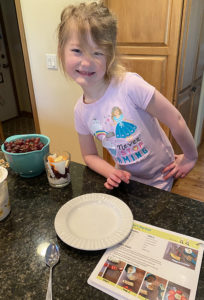 The Danny's Reading Recipes set of 14 recipe cards contains short step-by-step, illustrated instructions for making snack recipes in the classroom. Each 73/4 x 73/4″ card has large pictures and is double laminated for durability and easy clean up. The set of cards is bound together by a removable book ring that is inserted into a drilled hole in the corner of each card. Individual cards are able to be removed for use and then reassembled back into the set.
Danny's Reading Recipes are designed to be read and followed, either by individual students, or by small groups of students in the classroom. Each simple recipe is presented with minimal steps and uses inexpensive, easy-to-find tools and ingredients. None of the recipes requires the use of a kitchen or a special appliance.
Reading & Eating in the Classroom
Recipes are useful tools for analyzing functional text in the reading classroom. They require careful and repeated reading. Students use reading skills to decipher the recipe in a sequence of step-by-step directions, while learning new vocabulary in a hands-on activity. The real photographs help connect each step in the recipe to the written directions. Students use mathematics when following the steps and in the careful measurement of each of the ingredients.
Coordinating Activity