Description
Danny and Norman's Favorite Knock Knock Jokes reunites some of our favorite canine friends from other Danny books as Danny and Norman take turns telling their favorite silly knock knock jokes. Danny and Norman's Favorite Knock Knock Jokes is an I leveled reader. Young children love laughing at silly jokes. It's an expression of freedom! Using humor allows children to relax and even deviate from the rules in a safe manner.
Reader's Theater
Reader's Theater is a strategy for developing reading fluency. It involves children in oral reading through reading parts in scripts. Rhyming tales, joke books, nursery rhymes, and fairy tales are ideal texts for the introduction to Reader's Theater. Reading aloud from a script is a fun and motivating approach to instruction in fluency and expression, while allowing students to make predictions and observations about characters, setting, and plot. When choosing a story or script to be used with Reader's Theater, makes sure that it can be divided into parts or characters. The number of parts from the script should add up to the total number of students in the class.
Humor
Humor has the power to engage all of us. Laughing at a joke, or a funny situation, stimulates the brain's reward system, activating motivation and long-term memory. The pleasure of humor comes largely from the feeling of mastery. Children's humor reflects their growing knowledge of how things are normally done, their newly acquired language skills, and their developing understanding of social and emotional issues. A child needs to feel competent to have the confidence to risk silliness.
Get a child to laugh and the benefits continue long after the joke is over. Humor connects students to each other, fosters a playful atmosphere, and encourages creativity and learning. It encourages an openess to new ideas. Bring humor into the classroom to engage children, build self-esteem, and foster social connections among classmates.
Add a 2-sheet MRB Letter Setto any order for only $1.00 each set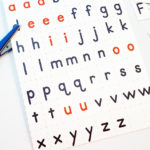 The 8-1/2 x 11″ sheets are printed in 2-colors on sturdy 110# white index stock and designed to be a portable way for students to do letter or word work whether they're learning at home or in the classroom. The set includes one sheet of upper case and one sheet of lower case letters, plus several blank tiles so the sheets can be customized. Vowels are printed in red. Consonants are printed in blue. The font used for the letter sheets is student-friendly. Printed dashed lines between the individual letter tiles make cutting them out easy.
Independent Reading for the At-Home Learner
Gail Boushey, well-know literacy author and educator, has created a resource for parents, teachers, and students  to encourage and support at-home learning. Throughout the videos, Gail provides instruction and models independent reading for students using three titles from MaryRuth Books: