Description
Look! In the backyard! It's Super Danny and Bat-Bee in The Adventures of Super Danny and Bat-Bee! Dressed in their superhero outfits, endowing them with super powers beyond those of a mortal dog and bee, Super Danny and Bat-Bee patrol the yard in a never-ending search for anybody in need of help. Hip hip hooray, Super Danny and Bat-Bee save the day!
The Adventures of Super Danny and Bat-Bee, the seventh title in the Danny's Big Adventure Chapter Books Set is a K leveled, Early Fluent reader.
Level K Readers
The Adventures of Super Danny and Bat-Bee is a K leveled, Early Fluent reader (Levels I-M), based on independent evaluation by Fountas & Pinnell using the F&P Text Level Gradient™. Level K readers are able to process a wide variety of texts and genres. Level K readers automatically recognize a large number of high-frequency words, and quickly use word-solving strategies for complex spelling patterns, multisyllable words, compound words, and many words with inflectional endings, plurals, contractions, possessives, prefixes, and suffixes. They read silently during independent reading, but when reading out loud, they are able to demonstrate appropriate rate, phrasing, intonation, and word stress.
At Level K, readers process texts with complex sentences and dialogue. With early reading skills under control, readers can follow more complex story lines with multiple characters or abstract concepts (time and space). Level K readers understand dimensional characters, identify with them, and feel empathy. They can talk about a character's motivations and feelings, and can sometimes predict what may happen next based on knowledge of the characters or the type of story they're reading.
Early Fluent Readers
Early Fluent readers recognize that reading has a variety of purposes and reading different kinds of books is enjoyable for distinct reasons. They should be reading both fiction and nonfiction/informational books. Reading informational books provides a different type of literacy benefit to early readers. Reading nonfiction helps young students develop background knowledge, which increases their comprehension ability by enabling them to make sense of new ideas. Additionally, informational texts have the potential to motivate students to read more by tapping into their personal interests. Encouraging students to explore a broad array of informational texts can help them see that the real world is as interesting and amazing as any fictional one. MaryRuth Books offers many fiction and nonfiction/informational leveled readers, suggested and used by Reading Recovery® and Guided Reading educators, when teaching Early Fluent readers.
What is a Chapter Book?
Books for new readers typically have few pages, short sentences, and get help telling their simple story from plenty of pictures. As children grow in their reading ability and can follow longer and more complicated stories, chapter books are the next step. Chapter books still feature illustrations, but fewer than the books for early readers. A chapter book tells the story primarily through the text. The story is long and complex enough to be broken up into short chapters that provide natural breaking points for readers to stop and resume reading later. And many children like the grown-up feeling of reading a book with chapters.
Each title in the Danny's Big Adventure Chapter Books Set features original photography and has a storyline that is more complicated than the books leveled as early emergent and emergent. Titles in this series are written especially for early fluent readers. Early fluent readers are comfortable with books that have more pages, longer sentences, fewer pictures, and more text per page. Following Danny's adventures throughout the Danny's Big Adventure Chapter Books Set encourages progressing readers to continue to practice their reading, resulting in their being able to read more smoothly, decode unknown words more quickly, and readily understand the cues given by punctuation marks.
Coordinating Activities
Grab a friend and play The Adventures of Super Danny and Bat-Bee Study Game.It's a comprehension game for two players.
Download the lesson plan and running records for The Adventures of Super Danny and Bat-Bee.
Download a comprehension, writing, and vocabulary study that corresponds with The Adventures of Super Danny and Bat-Bee.
Coloring may seem like simply fun, but there are many learning benefits associated with the activity. Coloring helps children develop finger grip (necessary for holding a pencil for writing)  and aids in the development of fine motor skills and hand/eye coordination. Coloring requires concentration and the ability to focus on a task. It also encourages color awareness and creativity by allowing children to explore how different color combinations change the appearance of the picture. Have some fun and enjoying the benefits of coloring by downloading our Super Danny coloring page here.
Danny Reading Posters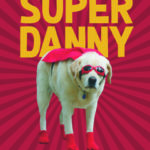 Colorful, fun posters can create a more stimulating and interesting environment for learning. The full-color 18 x 24″ Super Danny poster features Danny dressed as Super Danny. The fun poster is printed on heavy duty, 100# gloss book stock and shipped in a protective cardboard tube.
Browse all of our full-color posters, featuring Danny and his friends, to look for ideas to decorate your classroom and remind students that it's always a good time for reading.