Description
Read about the sea turtle and how it lives in the ocean in Sea Turtles at the Aquarium. Like other turtles, sea turtles have a hard shell that acts like armor to keep them safe from predators. They spend most of their lives in the water. They travel long distances using their strong paddle-like flippers to swim. Turtles have been around for 215 million years, but today many kinds of turtles are endangered. We need to look after turtles and help keep them safe.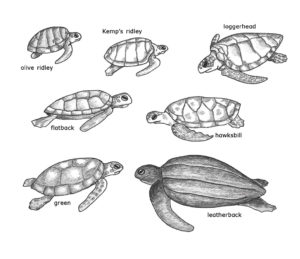 The Aquarium Collection features amazing sea animals found at the aquarium: Beluga Whales, Jellies, the Manatee, the Moray Eel, the Octopus, Sea Turtles, Seahorses, and Sharks. The original photography, factual information, labeled illustrations, and glossaries of subject-specific words will engage and propel aspiring marine biologists everywhere.
Sea Turtles at the Aquarium can be found in the following Sets and Collections:
Coordinating Activities:
Read more about Level I.