Description
Buying the books as a set is a MaryRuth Books best value. The unit cost of each book is $5.00 when purchased as the set.
All titles included in the MRB Reading Recovery® Books Set have been field-tested by the Reading Recovery® Council of North America. Books range from Reading Recovery® Level 1 (comparable to Fountas & Pinnell Guided Reading Level A) to Level 22 (F&P Level O). See a Reading Level Correlation Chart that compares different literacy leveling systems here. The books in the approved book set were selected by the Reading Recovery® Council of North America because of their ability to support a young reader's strategic development, as well as, to encourage problem-solving skills.
MRB founder and president, Mia Coulton, is a former Reading Recovery® teacher. From its inception, MaryRuth Books INC. has had a mission statement closely aligned with that of Reading Recovery®. That relationship endures and MaryRuth Books continues to support Reading Recovery® and the commitment of its its teachers.
There are 145 titles in the set, including books in the fiction, nonfiction, and informational categories. All titles feature original photography or illustrations. Please sample our books online, cover to cover.
Print the list of titles sorted by level or print an alphabetical list. Each title in the MRB Reading Recovery® Books Set has a corresponding running record available as a free download. The link for each title's downloads can be found on the individual product page. Download a complete set of lesson plans or running records for all 145 titles here.
Add a 2-sheet MRB Letter Set to any order for only $1.00 each set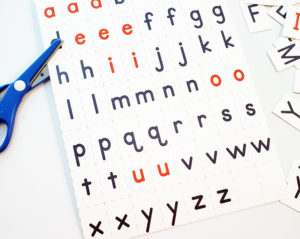 The 8-1/2 x 11″ sheets are printed in 2-colors on sturdy 110# white index stock and designed to be a portable way for students to do letter or word work whether they're learning at home or in the classroom. The set includes one sheet of upper case and one sheet of lower case letters, plus several blank tiles so the sheets can be customized. Vowels are printed in red. Consonants are printed in blue. The font used for the letter sheets is student-friendly. Printed dashed lines between the individual letter tiles make cutting them out easy.
Reading Recovery® Label Sheets
Make integrating MaryRuth Books into your classroom library easy by downloading our printable Reading Recovery® label sheets. Level labels are formatted to print on the Avery Easy Peel® 5160 Labels template.