Description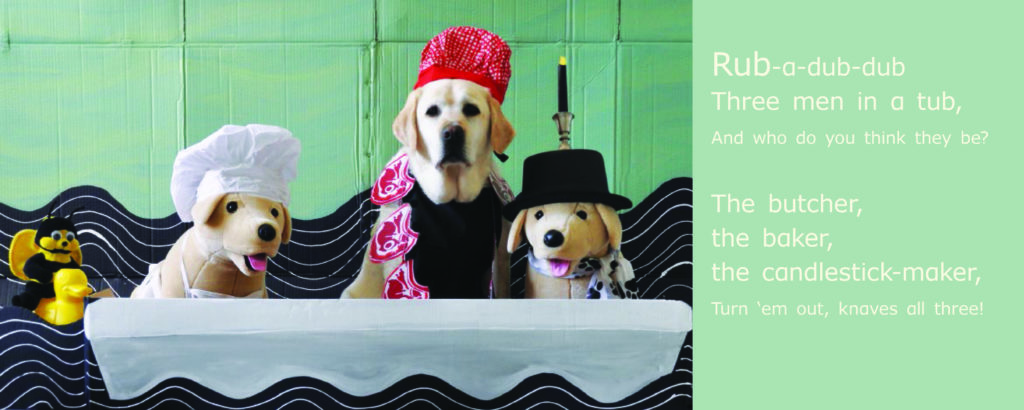 In Favorite Nursery Rhymes from Danny, Danny and Bee dress up to reenact scenes from eight well-loved nursery rhymes including, Pat-A-Cake Baker's Man, Little Miss Muffet, Rub-A-Dub-Dub, Rain Rain Go Away, Old Mother Hubbard, Jack Sprat, and Mary Mary Quite Contrary.
Reader's Theater
Reader's Theater is a strategy for developing reading fluency. It involves children in oral reading through reading parts in scripts. Rhyming tales, joke books, nursery rhymes, and fairy tales are ideal texts for the introduction to Reader's Theater. Reading aloud from a script is a fun and motivating approach to instruction in fluency and expression, while allowing students to make predictions and observations about characters, setting, and plot. When choosing a story or script to be used with Reader's Theater, makes sure that it can be divided into parts or characters. The number of parts from the script should add up to the total number of students in the class.
Nursery Rhymes
Nursery rhymes provide many educational benefits. Rhythm, rhyme, and repetition play an important role in the development and acquisition of early literacy skills. Early literacy skills are about listening and speaking, rather than reading and writing. Nursery rhymes provide opportunities for children to hear, identify, and manipulate letter sounds. They also give children practice in pitch, volume, intonation, and rhythm. The repetition in nursery rhymes provides opportunities for children to hear words multiple times and remember what was heard. Nursery rhymes can also expand children's vocabularies, allowing them to hear and use words that they wouldn't necessarily use in everyday language.
Nursery rhymes are fun and expand imaginations. Nursery rhymes allow children to visit an imaginary world where men use bathtubs instead of boats, sheep get lost, and spiders try to eat your lunch. These short, compact stories transport readers to a world of fantasy and play, while modeling good storytelling with a sequence of events (beginning, middle, end). Nursery rhymes develop humor and promote creativity when children sing and act out the stories.