Description
Moray eels are animals that live in the water and look like snakes. But, eels are not snakes. They are actually a type of fish. They can be black, brown, green, blue, yellow or white. They can be spotted, striped, or freckled. Learn more about the moray eel in The Moray Eel at the Aquarium.

Children love reading and learning about all types of animals. They are especially interested in the unusual and sometimes strange-looking animals that live in the ocean. It is part of an unknown mysterious underwater world that has ignited imaginations through the ages. The newest set of nonfiction/informational titles from MaryRuth Books, Aquarium Set 2, highlights more of these amazing sea animals: the manatee, jellies, the moray eel, and sea turtles. The original photography, factual information, labeled illustrations, and glossaries of subject-specific words will engage and propel aspiring marine biologists everywhere. The Moray Eel at the Aquarium is sure to inspire, encourage, and challenge young Upper Emergent (Levels F-H) readers.
Level H Readers
The Moray Eel at the Aquarium is a nonfiction/informational H leveled title, based on independent evaluation by Fountas & Pinnell using the F&P Text Level Gradient™. Level H readers use clusters, blends and digraphs, as well as consonant and vowel letter-sound relationships to solve words. They connect words that mean the same or almost the same, and use context and pictures to figure out the meaning of any unfamiliar vocabulary. Level H readers can quickly and automatically recognize seventy-five or more high-frequency words within continuous text. When reading out loud, they are able to demonstrate (without using a finger to point at words) appropriate rate, phrasing, intonation, and word stress.
At Level H, progressing readers are still reading books with three to eight lines of text per page, but the print size is smaller and there are more words per page. With early reading skills under control, readers can follow slightly more complex story lines. Level H readers understand dimensional characters, identify with them, and feel empathy. They can talk about a character's motivations and feelings, and can sometimes predict what may happen next based on knowledge of the characters or the type of story they're reading.
Upper Emergent Readers and Nonfiction/Informational Texts
Upper Emergent readers recognize that reading has a variety of purposes and reading different kinds of books is enjoyable for distinct reasons. They should be reading both fiction and nonfiction/informational books. Early exposure to the language and structure of nonfiction/informational books benefits children not only as they learn to read, but as they build their general knowledge of the world. Reading informational books, like The Moray Eel at the Aquarium, provides a different type of literacy benefit to early readers. Nonfiction texts help young students develop background knowledge, which increases their comprehension ability by enabling them to make sense of new ideas. Additionally, informational texts have the potential to motivate students to read more by tapping into their personal interests. Encouraging students to explore a broad array of informational texts can help them see that the real world is as interesting and amazing as any fictional one. MaryRuth Books offers many fiction and nonfiction/informational leveled readers, suggested and used by Reading Recovery® and Guided Reading educators, when teaching Upper Emergent readers.
Add a 2-sheet MRB Letter Set to any order for only $1.00 each set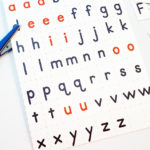 The 8-1/2 x 11″ sheets are printed in 2-colors on sturdy 110# white index stock and designed to be a portable way for students to do letter or word work whether they're learning at home or in the classroom. The set includes one sheet of upper case and one sheet of lower case letters, plus several blank tiles so the sheets can be customized. Vowels are printed in red. Consonants are printed in blue. The font used for the letter sheets is student-friendly. Printed dashed lines between the individual letter tiles make cutting them out easy.