Description
In Danny Goes for a Walk, Danny and Dad take a walk around the neighborhood and see many different things. Uh oh! They see storm clouds! What happens next? Danny Goes for a Walk, part of Danny Returns Set 6, is a C leveled, Early Emergent reader.
Level C Readers
Danny Goes for a Walk is a C leveled reader, based on independent evaluation by Fountas & Pinnell using the F&P Text Level Gradient. The book is appropriate for Early Emergent readers (Levels A-C). Level C titles typically feature simple characters and colorful pictures that support the printed text. The vocabulary is already familiar to the reader and most pages have just two to five lines of text, with phrases that are repetitive, to help children build confidence as they read. Students reading at level C are able to match spoken words to the printed words with their eyes. Level C readers notice punctuation and begin to use expression and phrasing in their reading as their comprehension skills continue to improve. They understand and can identify a simple sequence of events in the story. Reading at level C, they now have a wider range of high-frequency words and are able to self-correct while reading. Illustrations are still important keys to readers at this level, helping them in the decoding of new words.
Add a 2-sheet MRB Letter Set to any order for only $1.00 each set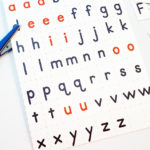 The 8-1/2 x 11″ sheets are printed in 2-colors on sturdy 110# white index stock and designed to be a portable way for students to do letter or word work whether they're learning at home or in the classroom. The set includes one sheet of upper case and one sheet of lower case letters, plus several blank tiles so the sheets can be customized. Vowels are printed in red. Consonants are printed in blue. The font used for the letter sheets is student-friendly. Printed dashed lines between the individual letter tiles make cutting them out easy.
Early Emergent Readers
Early Emergent readers benefit from books about familiar topics that use carefully controlled text structure and repeated vocabulary. Illustrations are important cues for readers at this level, supporting the decoding of new words. Early Emergent readers are still building a vocabulary of high-frequency words. Having a large vocabulary of frequently used words enables reading that is more fluent and sounds like natural speaking language. We offer many fiction and nonfiction/informational leveled readers, suggested and used by Reading Recovery® and Guided Reading educators, when teaching Early Emergent readers.
Readers at all levels benefit from reading both fiction and nonfiction/informational books. Reading nonfiction helps young students develop background knowledge, which increases their comprehension ability by enabling them to make sense of new ideas. Additionally, informational texts have the potential to motivate students to read more by tapping into their personal interests. MaryRuth Books offers many fiction and nonfiction/informational leveled readers, suggested and used by Reading Recovery® and Guided Reading educators, when teaching Emergent readers.