Description
Read favorite MRB titles as digital books… anytime and from anywhere
A MaryRuth Books eBook75 Membership allows each student on the educator's invitation list to have access to any of the 75 titles included in the Membership at all times. No more checking books in and out, or waiting for titles to be available. Read a sample before you buy.
Memberships are available for one teacher and six students ($45.00 annually) or one teacher and 30 students ($120.00 annually). If you need to add an additional student to your membership, please call our office. Extra memberships are $15.00 each.
Memberships are valid for one 12-month period from the date of purchase. They do not automatically renew, but you will have the option of renewing as the Membership approaches the end of its 12-month period. After you complete your purchase you will receive a Thank You for Your Order email to welcome you to your eBook Membership. Scroll down the email for Quick Tips on getting started. Remember to check your SPAM filter if you don't see the email. Have questions? Click our FAQs.
Purchasing a Membership for someone else
While purchasing, you will be asked to select the membership option and name your team. If you are purchasing the Membership(s) for someone other than yourself, you must have that person's name and email address when you make your purchase. If you are purchasing for yourself, you (as the Owner) will automatically be the Team Manager. Each membership purchased, must include a team name, a teacher's name, and the teacher's email address. Without this information a teacher will not have managerial control of their membership and will not be able to invite students. For step-by-step instructions to get started with a membership, click here.
Getting starting with your eBook Membership
For help getting your account set up, click here. Team members can be edited throughout the year if a classroom situation changes, as long as the total number of members does not exceed the Membership option that was purchased (six students or 30 students). For step-by-step help with adding Members click here.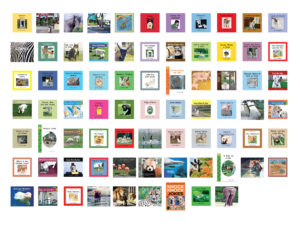 Companion Books Set 
Purchase the Companion Books Set to give students the opportunity to practice their reading with traditional printed copies of the titles included in the eBook75 Membership.
If you have questions or need help, we're just an email away: admin@maryruthbooks.com.
A list of the 75 titles included in the eBook Membership is available for download. Lesson Plans and Running Records are also available.