Description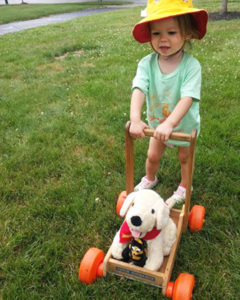 Adopt a stuffed version of Danny or welcome him and his friends into the classroom to work as reading and writing tools.
Studies have demonstrated that stuffed animals can make great "book hooks." The favorite stuffed character can also be a patient audience for a student practicing fluency by reading aloud. For younger students, stuffed animals can offer social and emotional support, as well as celebrate character traits. Consider mixing academics with play. It makes learning more fun.
The MRB plush versions of Danny, Norman and Abby are all  93/4″ tall and come wearing colorful signature scarves, embroidered with their names. Transforming your mild-mannered Danny into Super Danny is easy. Just add a red, specially embroidered Super Danny Cape for $5.00.
Porter stands 71/2″ tall and measures 12″ nose to tail. He comes wearing a green kerchief, embroidered with his name, just like the one he wears in Porter The Therapy Dog, an emergent level book about a literacy Therapy Dog who helps children practice their reading.
Lola, the orange cat, is 8″ long and comes with her pink dotted ribbon collar and brown felt bell, embroidered in gold. At only 31/2″ and 4″ tall, respectively, puppy Norman and Bee are very portable and the perfect size for small hands.