Description
Danny is a handsome yellow Labrador Retriever and beloved family member of MaryRuth Books author and company founder, Mia Coulton. Since 2001, Danny and Mia have been helping children learn to read. The Danny's Big Adventure Chapter Book Set includes 9 titles, featuring Danny and his friends, that are appropriate for early fluent readers.
Early fluent readers will love reading about the exploits of Danny and his friends in this series of grown-up looking chapter books. Danny and Abby have an adventure of their own in Danny's Big Adventure when Dad goes on a cross country trip, leaving Danny to stay at home with Abby. The next time Dad goes on a trip in A Week at Grandma Ruth's, he takes Danny with him and Danny makes a new friend, Frank. Young readers will laugh at the big scare Danny and Dad almost get while camping in Camping Out, and they will worry with Danny when he can't find Bee in The Fort, or when he accidentally gets locked in a school on a Saturday, in Locked In. Everyone will be rooting for canine detectives, Danny and Norman, as they try to help find The Lost Dog. And when Danny dons his red cape and swim goggles, readers will be singing along Hip Hip Hooray… Super Danny and Bat-Bee save the day! In Moving, students will understand how Danny feels when he has to figure out a way to deal with moving away from the red house and saying good-bye to his close friend, Abby. Having good friends is important. Danny is lucky to have many friends. In All My Friends we meet some of Danny's friends. They're all different from each other and they are different from Danny too. Danny thinks that's just fine!
What is a Chapter Book?
Books for new readers typically have few pages, short sentences, and get help telling their simple story from plenty of pictures. As children grow in their reading ability and can follow longer and more complicated stories, chapter books are the next step. Chapter books still feature illustrations, but fewer than the books for early readers. A chapter book tells the story primarily through the text. The story is long and complex enough to be broken up into short chapters that provide natural breaking points for readers to stop and resume reading later. And many children like the grown-up feeling of  reading a book with chapters.
Each title in the Danny's Big Adventure series of chapter books features original photography and has a storyline that is more complicated than the books leveled as early emergent and emergent. Titles in this series are written especially for early fluent readers. Early fluent readers are comfortable with books that have more pages, longer sentences, fewer pictures, and more text per page. Following Danny's adventures throughout the Danny's Big Adventure series encourages progressing readers to continue to practice their reading, resulting in their being able to read more smoothly, decode unknown words more quickly, and readily understand the cues given by punctuation marks.
Add a 2-sheet MRB Letter Set to any order for only $1.00 each set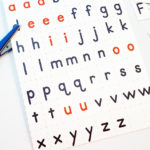 The 8-1/2 x 11″ sheets are printed in 2-colors on sturdy 110# white index stock and designed to be a portable way for students to do letter or word work whether they're learning at home or in the classroom. The set includes one sheet of upper case and one sheet of lower case letters, plus several blank tiles so the sheets can be customized. Vowels are printed in red. Consonants are printed in blue. The font used for the letter sheets is student-friendly. Printed dashed lines between the individual letter tiles make cutting them out easy.
Independent Reading for the At-Home Learner
Gail Boushey, well-know literacy author and educator, has created a resource for parents, teachers, and students  to encourage and support at-home learning. Throughout the videos, Gail provides instruction and models independent reading for students using three titles from MaryRuth Books, including the chapter book, All My Friends.
Coordinating Activities
• Organize your Danny books in the classroom with a Danny Doghouse, complete with its own chalkboard roof.