Description
Baby Elephant goes on many adventures as he figures out how the world he lives in works. Curious and innocent, Baby Elephant has a lot in common with young readers. He's just getting to know the world around him. Dealing with everyday needs, like being hungry or thirsty, can be scary for young children. Life seems easier when experiencing it with Baby Elephant!
The Baby Elephant Stories set includes six 5-3/4 x 5-3/4″ books. The titles, Lunch for Baby Elephant, Baby Elephant's Trunk, and Baby Elephant Goes for a Swim, can be read by Early Emergent readers (F&P levels A-C, Reading Recovery® levels 1-4). Baby Elephant Runs Away and Berries for Baby Elephant are appropriate for Emergent readers (F&P levels D-E, Reading Recovery® levels 5-8). The increasing levels of reading difficulty serve to challenge and encourage progressing readers. Upper Emergent readers will enjoy the final title in the set, Baby Elephant is Thirsty (F&P level H, Reading Recovery® level 12).
Add a 2-sheet MRB Letter Set to any order for only $1.00 each set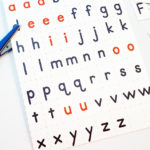 The 8-1/2 x 11″ sheets are printed in 2-colors on sturdy 110# white index stock and designed to be a portable way for students to do letter or word work whether they're learning at home or in the classroom. The set includes one sheet of upper case and one sheet of lower case letters, plus several blank tiles so the sheets can be customized. Vowels are printed in red. Consonants are printed in blue. The font used for the letter sheets is student-friendly. Printed dashed lines between the individual letter tiles make cutting them out easy.