Description
Accelerated Reader® is a reading management software program developed to help educators assess a student's reading level and test his/her comprehension. Students select books at their reading level from the Accelerated Reader® book list, read independently, and take a comprehension test that is available on the computer. For educators using the program in the classroom, the software also provides additional information about reading rates, amount of time spent reading, and other factors related to a student's reading progress.
Books are evaluated using the ATOS (Advantage- TASA Open Standard) Readability Formula. ATOS levels represent the difficulty or readability of the text and range from 0.1 (least difficult) to 20.0 (most difficult). For help in selecting the right book for a child, parents should ask their child's teacher to provide the child's reading level.
The titles in the MRB Accelerated Reader® Early Reader Set have been evaluated and leveled by Accelerated Reader®. For parents wanting information on the Accelerated Reader® program, please click here. Click here to download level labels for your Accelerated Reader® Early Reader Set, formatted to print on Avery 5160 labels.
Add a 2-sheet MRB Letter Set to any order for only $1.00 each set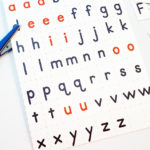 The 8-1/2 x 11″ sheets are printed in 2-colors on sturdy 110# white index stock and designed to be a portable way for students to do letter or word work whether they're learning at home or in the classroom. The set includes one sheet of upper case and one sheet of lower case letters, plus several blank tiles so the sheets can be customized. Vowels are printed in red. Consonants are printed in blue. The font used for the letter sheets is student-friendly. Printed dashed lines between the individual letter tiles make cutting them out easy.