Description
The MaryRuth Books Upper Emergent Reading Set consists of  48 fiction and nonfiction titles, ranging from levels F-H. The books have been evaluated and leveled by Fountas & Pinnell, using the F&P Text Level Gradient™ and support the guided reading method of teaching reading. Titles in this set include Danny at the Car Wash, Danny Paints a Picture, Danny and Bee's Safety Rules, Pizza Delivery, and more. 
The Upper Emergent Reading Set is suggested for readers who can use a range of word‐solving strategies to decode unknown words. For students reading at this level, early reading behaviors, like left‐to‐right directionality and voice‐print match, are completely automatic. When reading aloud, they are able to read at an appropriate rate, with conversational phrasing, intonation, and word stress.

Make organizing MaryRuth Books Guided Reading Sets easy by downloading our printable Fountas & Pinnell label sheets. Level labels are formatted to print on the Avery Easy Peel® 5160 Labels template.
Add a 2-sheet MRB Letter Set to any order for only $1.00 each set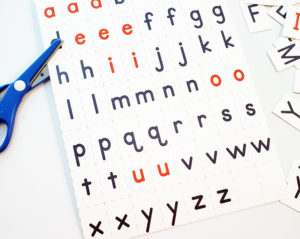 The 8-1/2 x 11″ sheets are printed in 2-colors on sturdy 110# white index stock and designed to be a portable way for students to do letter or word work whether they're learning at home or in the classroom. The set includes one sheet of upper case and one sheet of lower case letters, plus several blank tiles so the sheets can be customized. Vowels are printed in red. Consonants are printed in blue. The font used for the letter sheets is student-friendly. Printed dashed lines between the individual letter tiles make cutting them out easy.
Lesson Plans and Running Records
Each title in the MaryRuth Books Upper Emergent Reading Set has a corresponding lesson plan and running record available as a FREE download. The link for each title's downloads can be found on the individual product page. Or download a complete set of lesson plans or running records for all 48 titles through the links on this page.