Description
Reading, and writing are connected parts of early literacy learning. When young children learn about reading, they learn about writing. And when they learn more about writing, it helps them learn more about reading. 
Writing requires students to combine fine motor skills, language, memory, and concentration. Becoming proficient requires practice! The Danny and Bee Writing Journals help make that fun! Journals are available with both red or green covers. 
To encourage students to form letters correctly, the red journal has 1/2" writing guidelines with a dotted midline on all right-hand pages. Left-hand pages are intentionally left blank for free writing and drawing. The pages in the green journal are all without lines. 
Each version of the journal is 7 1/2 x 10 1/2" and has 48 round-cornered pages (24 sheets). The journals are double wire-O bound so they lay flat on a desktop when open. Journals may be purchased individually, or in 6-PKs for a savings.
Single Journal, DBJ-R or DBJ-G: $5.00;
6-PK, PKDBJ-R or PKDBJ-G: $27.00 ($4.50 each journal)
Stickers can capture the attention of young writers and encourage creative responses.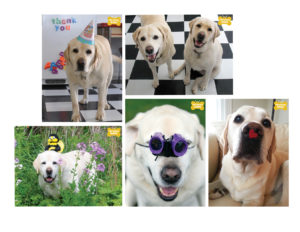 Consider pairing Danny + Friends Stickers with the writing journal. The detailed and colorful stickers, featuring 36 different pictures of Danny and his friends, can be used to encourage language development and writing skills. Use the pictures as writing prompts for an individual student or have several students collaborate to write their own original story, illustrated with Danny stickers.
ON SALE FOR A LIMITED TIME ONLY
6-PK Red Journal and 36 Stickers (PKDBJ-R+S36): $32.00; SPECIAL PRICE OF $25
6-PK Green Journal and 36 Stickers (PKDBJ-G+S36): $32.00; SPECIAL PRICE OF $25
Coordinating classroom activity:
Let Danny help you make sense of your senses by creating a My Five Senses Journal. Read Danny's Five Senses, where Danny uses his five senses to experience Dad's birthday cake. Then download the worksheet, Introduction to Understanding the Five Senses. Copy and complete the questions to begin your journal entry. The download contains additional journal prompts to keep the writing going.