Description
The MaryRuth Books Early Fluent Reading Set is a leveled reading set of 19 MaryRuth Books fiction and nonfiction titles, ranging from levels I-M. The set supports the guided reading method of teaching reading. The books have been evaluated and leveled by Fountas & Pinnell, using the F&P Text Level Gradient™. Titles in this set include The Lost Dog, Danny's Special Tree, A Week at Grandma Ruth's, and more.
The Early Fluent Reading Set is suggested for readers who have a large, expanding sight‐word vocabulary and are able to quickly apply word‐solving strategies. Students reading at this level are becoming comfortable with complex spelling patterns, multisyllable words, and words with inflectional endings (plurals, contractions, and possessives). They are able to bring background knowledge to new reading and recognize abstract ideas and themes in texts, like friendship and courage.
Make organizing MaryRuth Books Guided Reading Sets easy by downloading our printable Fountas & Pinnell label sheets. Level labels are formatted to print on the Avery Easy Peel® 5160 Labels template.
Add a 2-sheet MRB Letter Set to any order for only $1.00 each set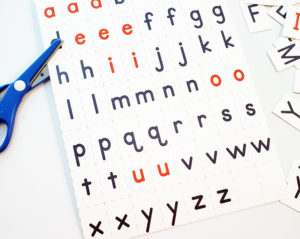 The 8-1/2 x 11″ sheets are printed in 2-colors on sturdy 110# white index stock and designed to be a portable way for students to do letter or word work whether they're learning at home or in the classroom. The set includes one sheet of upper case and one sheet of lower case letters, plus several blank tiles so the sheets can be customized. Vowels are printed in red. Consonants are printed in blue. The font used for the letter sheets is student-friendly. Printed dashed lines between the individual letter tiles make cutting them out easy.
Lesson Plans and Running Records
Each title in the MaryRuth Books Early Fluent Reading Set has a corresponding lesson plan and running record available as a FREE download. The link for each title's downloads can be found on the individual product page. Or download a complete set of lesson plans or running records for all 18 titles through the links on this page.