Description
With a Farm Book Here, and a Farm Book There…
Books about farm animals, whether fiction or nonfiction, are favorites with young children. Pairing fiction and nonfiction books about these beloved animals is an easy way to expose students to different literary formats and encourage additional learning by connecting themes. Reading nonfiction helps young students develop background knowledge, which increases their comprehension ability by enabling them to make sense of new ideas. Additionally, informational texts have the potential to motivate students to read more by tapping into their personal interests. For young readers especially, pairing fiction and nonfiction can help them understand the attributes of each type of material and gives the reader a variety of ways to engage with the information.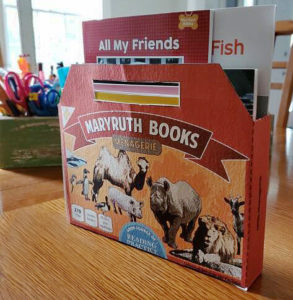 The Old McDanny Had a Farm Special includes the early emergent Let's Explore title, The Farm, 4 Lucky the Pony Stories, and the ten books from the Paired-Farm Collection (5 nonfiction/informational books from the Favorite Farm Animals and 5 illustrated fiction books from Down on the Farm). Get all 15 books for $65.00 (just over $4 per title). Create a portable MRB menagerie of your favorite animal titles with our easy-to-make MRB Menagerie box. Download and print the box templates.
Here a Book, There a Book, Everywhere a Farm Book
The titles in the Paired-Farm Collection are leveled for Early Emergent (Levels A-C) to Emergent readers. The Lucky the Pony Stories are four leveled titles for Emergent (Levels D-E) and Upper Emergent readers (Levels F-H). Coordinating Lesson Plans and Running Records are available as FREE downloads for each of the titles.
Fountas & Pinnell Reading Level Comparison for the Paired-Farm Collection
Cats Like to Hide (C)     The Cat Wants to Play (C)
Chickens (C)     Chickens and the Fox (D)
Cows (C)     The Yellow Coat (C)
A Goat (C)     I Like Flowers (B)
Pigs (D)     Little Pig Gets Stuck (D)
Add a 2-sheet MRB Letter Set to any order for only $1.00 each set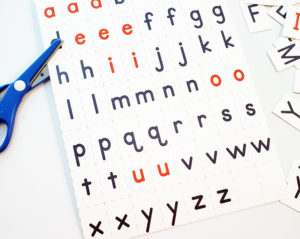 The 8-1/2 x 11″ sheets are printed in 2-colors on sturdy 110# white index stock and designed to be a portable way for students to do letter or word work whether they're learning at home or in the classroom. The set includes one sheet of upper case and one sheet of lower case letters, plus several blank tiles so the sheets can be customized. Vowels are printed in red. Consonants are printed in blue. The font used for the letter sheets is student-friendly. Printed dashed lines between the individual letter tiles make cutting them out easy.
Remember to visit our Resources section each month to download a new MaryRuth Books calendar. You'll also find plenty of FREE downloadable activities there to help curious students keep learning.
Coordinating Activities