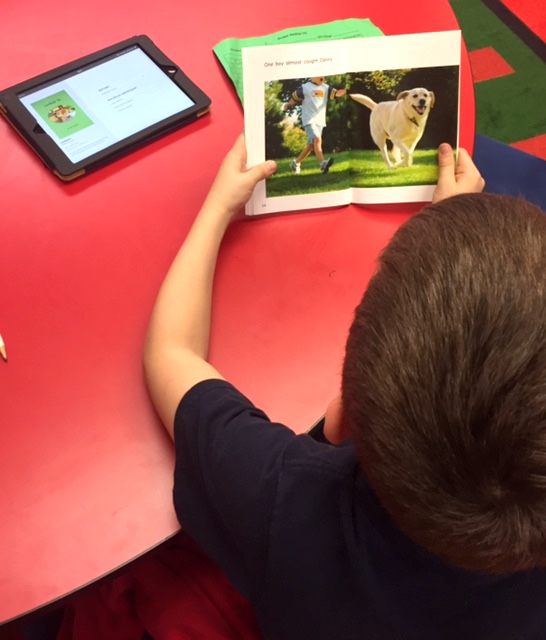 Rebecca's Story:
Rebecca Frisby is a Title One 1 Reading Teacher at Hawthorne Elementary School in Salem, IL. She's a veteran teacher, with twelve years of experience.
Choosing MaryRuth Books
For as long as she can remember, Rebecca had wanted to be an educator. She began by teaching Sunday school at her church. Today, Rebecca still feels pure joy upon seeing children learn, especially when it comes to reading.
When Rebecca arrived at Hawthorne Elementary School, she found "a pile of stuff" in what was to become her new classroom. While combing through the assortment, she discovered some books that were different from the early readers she'd previously used. They were texts from MaryRuth Books.
"I started looking through the books and thought, 'What a cute dog! What are these books?' After looking through them a little more," says Rebecca, "I was sold."
MaryRuth Books Cultivate a Love for Reading
When Rebecca began using the books with her students, she found that they absolutely loved them. They were excited to read and quickly devoured the books in order to find out more about Danny and his friends. Rebecca knew that they'd soon finish reading all of the available books. After a visit to the MaryRuth Books website, she got permission from the school superintendent and placed the first of what would eventually be many orders.
Among her students, Rebecca remembers one young boy in particular. He was struggling in school and was reluctant to read. After being shown the Danny books, his attitude about reading did a complete turnaround. Rebecca calls that a "gotcha" moment, because that's when everything started to click. He's now in the fourth grade and doing well in his classes. Rebecca says that she'll never forget being able to help that young student change his life.
Positive Effects on Students
Rebecca has been using texts from MaryRuth Books during small group reading with her students for four years. Many of the first and second grade teachers at Hawthorne are now using them as well. Stories about Danny and Bee are the agreed upon favorites. But recently, the young readers expressed concern to their teachers that they're close to running out of new stories! So Rebecca and her students sent a message to author, Mia Coulton. "Mia, please write more books!"
Because of witnessing the positive effects the books have had on her students, Rebecca anticipates reading the MaryRuth Books titles to her own grandchildren, as soon as she has any!
Learn More About MaryRuth Books
Contact MaryRuth Books to learn more about how our books can help improve your students' reading skills!