Featured page image is from an organizing project that recycles cereal boxes to create a simple filing system for At-Home-Learners. Download step-by-step instructions.
Create a portable MRB menagerie of your favorite animal titles with our easy-to-make MRB Menagerie or Farm Animal Menagerie box.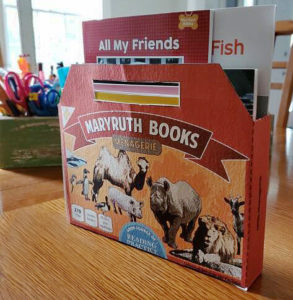 Download and print the box templates. If you'd like more complete instructions, click here.
Practicing Motor Skills
Planning, Sequencing, and Organizing
Independent Reading for the At-Home Learner
Gail Boushey, well-know literacy author and educator, has created a resource for parents, teachers, and students  to encourage and support at-home learning. Throughout the videos, Gail provides instruction and models independent reading for students using three titles from MaryRuth Books:
Problem Solving, Comprehension, and Critical Thinking