Description
In My Yard is a nonfiction/informational set of two books: The Little Raccoon in My Yard and The Robins in My Yard. In this set, Danny explores his yard, discovering the other animals who call it home too. Each book in the set features original photography. Books may be purchased as individual titles, or as the set.
Early Emergent Readers
Early Emergent readers benefit from books about familiar topics that use carefully controlled text and repeated vocabulary. Illustrations are important keys to readers at this level, supporting the decoding of new words. Early Emergent readers are still building a vocabulary of high-frequency words. Having a large vocabulary of frequently used words enables reading that is more fluent and sounds like natural speaking language.
Add a 2-sheet MRB Letter Setto any order for only $1.00 each set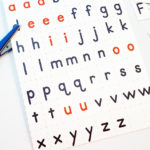 The 8-1/2 x 11″ sheets are printed in 2-colors on sturdy 110# white index stock and designed to be a portable way for students to do letter or word work whether they're learning at home or in the classroom. The set includes one sheet of upper case and one sheet of lower case letters, plus several blank tiles so the sheets can be customized. Vowels are printed in red. Consonants are printed in blue. The font used for the letter sheets is student-friendly. Printed dashed lines between the individual letter tiles make cutting them out easy.
Nonfiction and Informational Titles
MaryRuth Books offers many fiction and nonfiction/informational leveled readers, suggested and used by Reading Recovery® and Guided Reading educators. Readers at all levels benefit from reading both fiction and nonfiction/informational books. Reading nonfiction provides a different type of literacy benefit to early readers. It helps young students develop background knowledge, which increases their comprehension ability by enabling them to make sense of new ideas. Additionally, informational texts have the potential to motivate students to read more by tapping into their personal interests. Encouraging students to explore a broad array of informational texts can help them see that the real world is as interesting and amazing as any fictional one.