Description
Fish has many adventures with his friend, Danny. He moves into a new home, discovers a treasure chest and plays pirate, and even performs in Danny's Three Bowl Circus. In the fifth book in the series, More Fish for Fish, Fish is ready to move again and Danny has an idea to help his friend. The Fish Stories Set consists of 5 leveled titles for Early Emergent to Upper Emergent readers.
Add a 2-sheet MRB Letter Set to any order for only $1.00 each set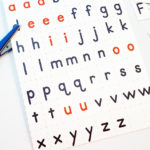 The 8-1/2 x 11″ sheets are printed in 2-colors on sturdy 110# white index stock and designed to be a portable way for students to do letter or word work whether they're learning at home or in the classroom. The set includes one sheet of upper case and one sheet of lower case letters, plus several blank tiles so the sheets can be customized. Vowels are printed in red. Consonants are printed in blue. The font used for the letter sheets is student-friendly. Printed dashed lines between the individual letter tiles make cutting them out easy.