Featured page image is from a comprehension activity that coordinates with the title, Grandma Ruth Glasses. After reading the book (or any of the titles in the Danny and Grandma Ruth set), students draw and color what Grandma Ruth sees from her perspective (through her glasses).
Fiction titles:
Independent Reading for the At-Home Learner
Gail Boushey, well-know literacy author and educator, has created a resource for parents, teachers, and students  to encourage and support at-home learning. Throughout the videos, Gail provides instruction and models independent reading for students using three titles from MaryRuth Books:
Combining Fiction and Nonfiction
In Danny's Tadpoles, Danny puts tadpoles in a bowl and watches them become frogs. Studying a life cycle when reading offers a perfect opportunity to meet cross curriculum standards in the primary classroom. and combine fiction and nonfiction. Print the 24 frog life cycle cards on card stock and cut the squares out. Assemble the cards in sequential order and staple along the left edge to keep them together. To flip the book and create the animation, hold the stapled edge of the book with your left hand and hold the bottom right corner of the book with your right hand. Bend the book and let the pages slide against the thumb holding in the bottom right corner.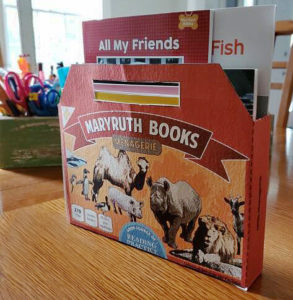 Create a portable MRB menagerie of your favorite animal titles with our easy-to-make MRB Menagerie box. Download and print the box templates.
Comprehension and Writing
Making Sense of the Five Senses
Our five senses: sight, smell, taste, hearing, and touch allow us to explore and interact with the world.  The body parts that we use to experience these senses are the eyes for seeing, the nose for smelling, the tongue for tasting, the ears for hearing, and the skin for touching. Let Danny help you make sense of your senses with our monthly series of classroom activities. Read Danny's Five Senses, where Danny uses his five senses to experience Dad's birthday cake. Then download and complete the worksheet, Introduction to Understanding the Five Senses. The tongue is used for talking and tasting. Download a hands-on activity for the reading classroom to explore the sense of taste.
Use your five senses to experience the season of spring.
Matching, Sequencing, Maker Movement, and Using Graphic Organizers
Word Work
Nonfiction / Informational titles:
Story Strips of MaryRuth Book titles with lesson plans: