Description
Danny is a handsome yellow Labrador Retriever and beloved family member of MaryRuth Books author and company founder, Mia Coulton. Since 2001, Danny and Mia have been helping children learn to read. I Dream of Danny is the latest set of 6 titles continuing the adventures of Danny, Norman and Bee. Titles include Norman's Candy Hearts, Danny and Norman at the Car Show, Danny's Tadpoles, Stink Bugs in Danny's House, Oh No, Norman! and Danny's Bee Goes to the Hospital, ranging from guided reading levels B to G.
MaryRuth Books titles are evaluated and leveled by early literacy education experts Irene Fountas and Gay Su Pinnell, using the F&P Text Level Gradient™. The books have been designed to support the guided reading method of teaching reading and range in difficulty from Early Emergent to Early Fluent.
MaryRuth Books titles have also been reviewed and certified by Reading Recovery®, with many titles being included on the official Reading Recovery® Approved Book List.
Add a 2-sheet MRB Letter Set to any order for only $1.00 each set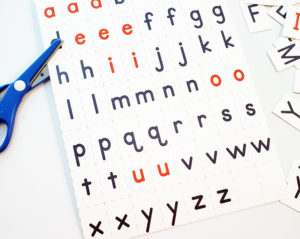 The 8-1/2 x 11″ sheets are printed in 2-colors on sturdy 110# white index stock and designed to be a portable way for students to do letter or word work whether they're learning at home or in the classroom. The set includes one sheet of upper case and one sheet of lower case letters, plus several blank tiles so the sheets can be customized. Vowels are printed in red. Consonants are printed in blue. The font used for the letter sheets is student-friendly. Printed dashed lines between the individual letter tiles make cutting them out easy.
Remember to visit our Resources section each month to download a new MaryRuth Books calendar. You'll also find plenty of FREE downloadable activities there to help curious students keep learning.
Make integrating MaryRuth Books into your classroom library easy by downloading our printable label sheets that include both Intervention/Reading Recovery® and Fountas & Pinnell reading levels. Level labels are formatted to print on the Avery Easy Peel® 5160 Labels template.
Over 100 MaryRuth Books titles have also been evaluated by Accelerated Reader®, using their ATOS (Advantage- TASA Open Standard) Readability Formula to determine readability. Using the ATOS information, young readers can select books at their own level for independent reading. After reading, Accelerated Reader® has simple tests for each book, available online to measure the reader's comprehension.
Coordinating Activities
• Organize your Danny books in the classroom with a Danny Doghouse, complete with its own chalkboard roof.
• Download lesson plans and running records for Set 14