Description
Danny and Bee Play Together Lap Book is a larger, lap-sized version of Danny and Bee Play Together, and is the perfect size for reading aloud with children who are just beginning to read on their own. In Danny and Bee Play Together, Danny and Bee like to spend time with each other. Even though Danny is much bigger than Bee, Danny takes special care when playing with his best friend. Danny and Bee Play Together Lap Book is a D leveled, Emergent title.
Danny and Bee Play Together Lap Book is part of the Early Childhood Unit 2 Kit: Playing and Learning Together. This unit is designed to help young students build social skills and support emotional development needed for success in the classroom. The interactions between Danny and Bee, in the specially selected six books, teach emotional awareness, and encourage empathy and self-regulation. Each book's corresponding lesson plan is tailored to teach the principles of self-sufficiency, emotional awareness, and empathy demonstrated in the books.
Each themed unit consists of six lap-sized (8.5 x 8.5″) books and a coordinating set of detailed, hands-on lesson plans tailored to teach the principles demonstrated in the books. Unit 2 Kit: Playing and Learning Together includes a My Very Own Bee, just like Danny's toy, Bee, featured in the Unit 2 books.
The lap-sized books may also be purchased individually and are perfect for small group reading with students.
Level D Readers
Danny and Bee Play Together Lap Book is a lap-sized D leveled reader, based on independent evaluation by Fountas & Pinnell using the F&P Text Level Gradient™. The title is appropriate for Emergent readers (Levels D-E). Level D fiction titles typically feature stories about simple one-dimensional human characters or animal fantasy where the animal characters have human experiences, exhibit emotions, talk, and have the ability to reason. The printed text in Level D readers continues to be strongly supported by illustrations . While the vocabulary and themes are familiar to the reader, at this level they can be examined in more depth. Additionally, Emergent readers no longer rely as heavily on repetitive language patterns.
For students reading at Level D, voice‐print matching is smooth and automatic. They no longer track text with their fingers. They're able to read pages with up to six lines of text and increased sentence complexity. The text can include prepositional phrases, adjectives, simple contractions, and possessive words (using apostrophes). Some of the sentences on a page can be longer (containing more than six words) and carry over to a second line of text. Level D readers are able to consistently self-monitor, and cross‐check other sources of information to self‐correct while they are reading.
Add a 2-sheet MRB Letter Set to any order for only $1.00 each set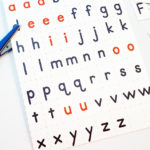 The 8-1/2 x 11″ sheets are printed in 2-colors on sturdy 110# white index stock and designed to be a portable way for students to do letter or word work whether they're learning at home or in the classroom. The set includes one sheet of upper case and one sheet of lower case letters, plus several blank tiles so the sheets can be customized. Vowels are printed in red. Consonants are printed in blue. The font used for the letter sheets is student-friendly. Printed dashed lines between the individual letter tiles make cutting them out easy.
Emergent Readers
The guided reading Emergent reader category includes Levels D-E. Emergent readers have a good understanding of the alphabet and early phonics that help them decode unknown words. They are developing comprehension skills and word-attack strategies, and are comfortable with a significant number of high-frequency words. Emergent readers are more flexible in their ability to handle varied placement of text on a page and understand most punctuation. They're also able to recognize that reading has a variety of purposes and reading different kinds of books is enjoyable for distinct reasons. Readers at the Emergent level are able to understand a wider range of punctuation and can read dialogue, reflecting the meaning through their phrasing. They're also able to recognize and understand inflectional endings, like s and ing, and the effect those endings have on root words.
Readers at this level benefit from reading both fiction and nonfiction/informational books. Reading nonfiction helps young students develop background knowledge, which increases their comprehension ability by enabling them to make sense of new ideas. Additionally, informational texts have the potential to motivate students to read more by tapping into their personal interests. MaryRuth Books offers many fiction and nonfiction/informational leveled readers, suggested and used by Reading Recovery® and Guided Reading educators, when teaching Emergent readers.